Glass half Fuller: Will Fuller scores twice; Texans win 27-20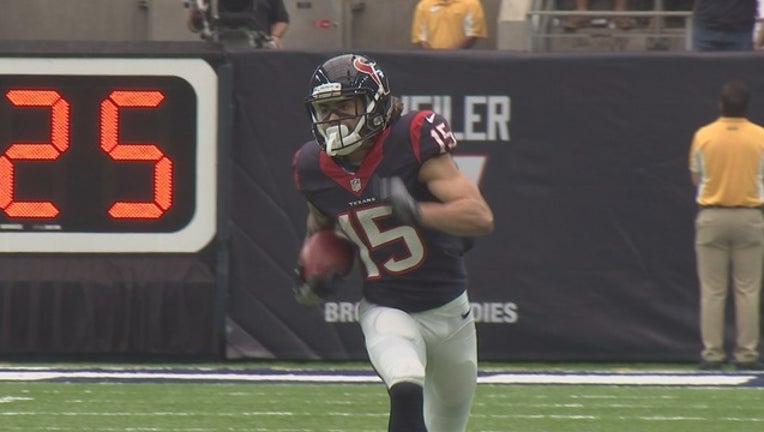 HOUSTON (AP) -- Will Fuller had never returned a punt for a touchdown at any level entering Sunday's game.
   Moments after he grabbed the first return of his NFL career he knew that was about to change. "It was wide open," Fuller said. "It was probably one of the easiest touchdowns I've scored."

   Fuller had a tiebreaking 67-yard punt return for a touchdown and the Houston Texans earned a 27-20 win over the Tennessee Titans in their first game without J.J. Watt.

   It was the first time Houston (3-1) had played without its star defensive end since the 2010 season after Watt , who is out for the season after back surgery, had started 83 straight games since being drafted in 2011.
   Fuller also had 81 yards receiving and a touchdown.

   Tennessee (1-3) was driving with less than two minutes remaining, but Marcus Mariota's pass to former Texan Andre Johnson on fourth down was broken up to secure the victory.

   The Texans squandered an early 14-point lead and their offense was struggling in the second half when Fuller took the punt back for a touchdown to make it 27-20 late in the third quarter. "That gave us a real shot in the arm," coach Bill O'Brien said.

   Fuller, who ran a 4.32 40-yard dash at the combine, took the punt and quickly made a trio of Titans miss before outrunning everyone else down the sideline for the score.
   The 21st overall pick in this year's draft was so far ahead of any defenders that he slowed down Usain Bolt-style near the 5-yard line and trotted into the end zone.
   "Once I got past everybody I knew it was a touchdown," Fuller said. "So I didn't want run to the back of the end zone and look crazy."

   It was Houston's first punt return for a touchdown since 2013 and he became the first player in franchise history to have a TD reception and a punt return for a score in the same game. Fuller's 5-yard touchdown reception made it 14-0 in the first.

   The Titans' game plan was to shut down receiver DeAndre Hopkins, and they did that, limiting him to just one catch for 4 yards. But putting so much emphasis on him left Fuller open to make plays.
   "You can take one away; you can't take two away," coach Mike Mularkey said.
   Fuller's return came after Jadeveon Clowney led a defensive stand following Brock Osweiler's second interception of the game.

   Clowney, the top overall pick in 2014, sacked Mariota for a 6-yard loss on first down and chased down Delanie Walker after a reception on third down to force a punt.

   The Texans raced out to a 14-0 lead after touchdown passes by Osweiler on their first two possessions.
   The teams exchanged field goals before two touchdown runs by DeMarco Murray tied it at 17-17. But the Texans added a field goal to lead 20-17 at halftime.

   MURRAY'S FIRST HALF: Sunday was the first time since 2013 against the Raiders that Murray had two rushing touchdowns before halftime. He had 12 carries for 56 yards before the break and finished with 95 yards rushing.

   THEY SAID IT: Mariota on the struggles of the offense in the second half: "We just weren't able to finish. We would get a first down here, a first down there, and, unfortunately, whether it was a penalty or miscommunication, just not executing. We just weren't able to do our jobs."

   CUSHING RETURNS: Houston middle linebacker Brian Cushing returned after sitting out the past two games after injuring his knee in the season opener. He finished with four tackles. He was happy to be back so soon after he was initially expected to be out five or six weeks.
   "I didn't want to be out that long and (we) really cut the time down big time," he said. "I was just really excited to be back out there."

   INJURY REPORT: Tennessee DL Al Woods pulled a calf muscle and Mularkey said he'll be out at least four weeks. ... Houston TE C.J. Fiedorowicz injured his knee early on Sunday, but returned in the second half and said he was OK.

   UP NEXT: Titans : Visit the Dolphins on Sunday.
   Texans : Visit the Vikings on Sunday.