Zipline across the Mississippi River during Super Bowl festival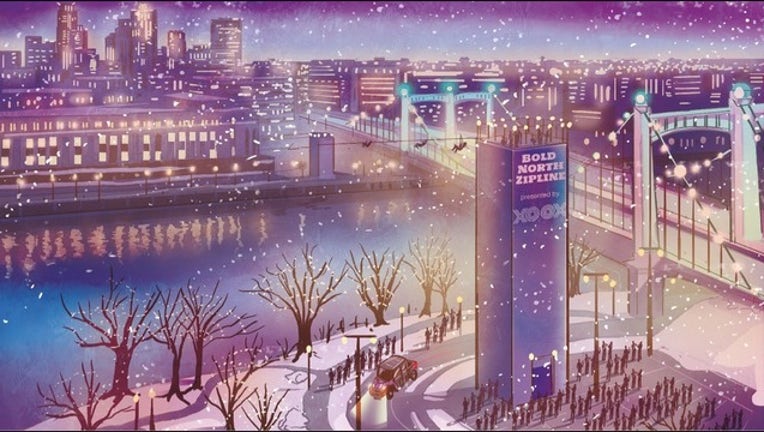 article
(KMSP) - "The Bold North" is soaring to new heights. 
For 10 days during Super Bowl LII, thrill seekers will be able to see Minneapolis from an entirely new perspective. Those who dare to brave the cold will have the opportunity to fly across the Mississippi River suspended 100 feet in the air on a zipline. 
The launch tower for the zipline will be located on Nicollet Island. Thrill seekers will buzz at speeds of up to 30 miles per hour for 750 feet – from the island to a landing tower across the Mississippi River.
The Bold North Zipline is one of the many attractions at the 10-day Super Bowl Live event that will include free concerts, food and fun. It will open on January 26 and run through game day on Sunday, February 4. 
The zipline will be limited to 10,000 riders over the 10-day period. Those who want to take a ride through the Minneapolis sky are encouraged to purchase the $30 tickets in advance. 
Shuttle buses will provide rides from Nicollet Mall to the launch tower and back. 
Ziptrek Ecotours, a global leader in zipline based adventure tours will operate the ride. A parallel four-line set up will allow four people to ride at a time. The company also built the zipline for the Super Bowl in Indianapolis in 2012 and for the 2010 Winter Olympics in Vancouver. 
XOOX, lifestyle backpack brand founded by former Minnesota Vikings player Robert Griffith will sponsor the attraction. 
Minneapolis Mayor-Elect Jacob Frey announced at a press conference that he will be the first to travel across the Mississippi River on the zipline.