Yolanda Adams, Congresswoman Sheila Jackson Lee to be honored in Houston at worship conference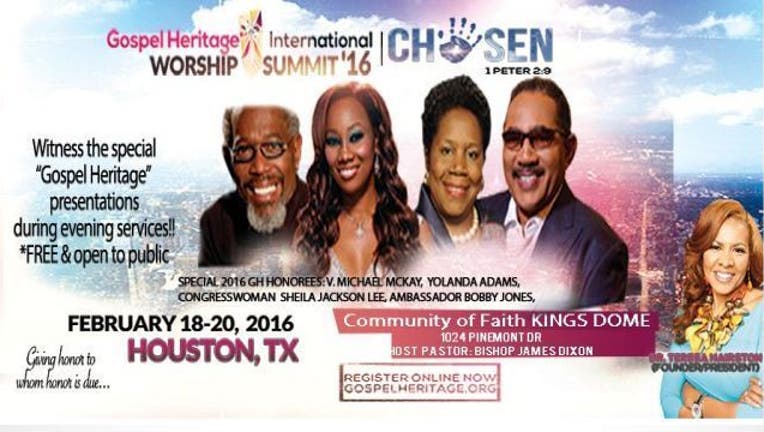 HOUSTON (FOX 26) - The "Super Bowl of Worship" is coming to Houston and top leaders and headliners in the industry will bring powerful messages of praise and worship in a three-day event, which includes a concert with an awe-inspiring performance by Houston's own Yolanda Adams.
 The international Worship Summit 2016 will be held at the Community of Faith Church, the landmark church of Bishop James W. E. Dixon II, on Feb. 18 – 20.
"We are excited about the partnering with Dr. Teresa Hairston and the Gospel Heritage Foundation," Bishop said.
The IWS is America's number one worship conference, and will feature major gospel speakers and musical guests, including Bishop Noel Jones, Bishop Paul S. Morton, Dr. Bobby Jones, Bishop Hezekiah Walker, Mike McCay and more.
"IWS participants will witness a culturally enriching community event and gain a deeper understanding of the phenomenal contributions made by African Americans," said Dr. Teresa Hairston, Gospel Heritage Foundation founder. 
One of the highlights will be is the presentation of the Gospel Heritage Awards. 
Jones, of BET fame, and McKay, a Houston-based composer will be honored on Thursday.
Adams, a Grammy Award-winning singer and Houston legend, and Congresswoman Sheila Jackson Lee will be honored on Friday evening.
Over its 22-year history, the Gospel Heritage Foundation has become an important educational organization, fostering the preservation and legacy of the conference.
The prominence of the gospel genre in today's musical landscape is inescapable.  Gospel has been the foundation for America's top performers from Elvis Presley, the King of Roc-n-Roll, to Aretha Franklin, the Queen of Soul.
The IWS conference kicks off Thursday, Feb. 18 and ends of Saturday, Feb. 20.
The day sessions are free and open to the public.