Woman receives heartbreaking note on her doorstep from a boy who lost his mom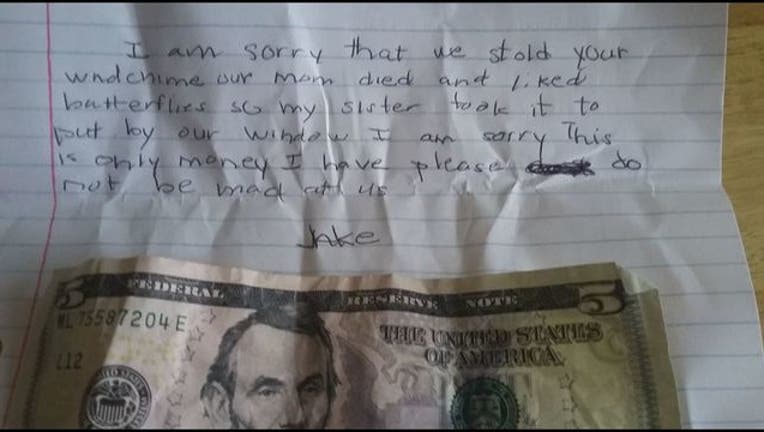 article
LAKEWOOD, Wash. (KTVU) - A woman from Washington state is on a mission to locate a young boy who left a heartbreaking note on her doorstep, after losing his mother.
Chrissy Marie says last Friday one of three butterfly wind chimes hanging in front of her home disappeared and there was a letter left behind.
It was signed by a boy named Jake, who offered an apology and an explanation on why he took Marie's wind chime. 
Jake wrote: "I am sorry that we stold your windchime our mom died and liked butterflies so my sister took it to put it by our window I am sorry this is only money I have please do not be mad at us."
Along with the letter, the boy left a $5 dollar bill and an imprint on Marie's heart.
"I wanted to cry. I felt for Jake, it is not easy to lose a parent," Marie told KTVU.
The mother of five knows all too well what it feels like to lose a parent at a young age.
Marie says she was only 5 years old when she lost her own mother.
On Facebook, Marie posted a photo of Jake's letter along with a message to the boy. 
She tells him she is not mad. "I not sure who you are but you can come get your money back sweetie," she wrote.
"I had 3 of those windchimes," she adds and says she wants to offer the boy and his sister another wind chime so they each can have their own. 
Marie says she wants to get a hold of Jake "without embarrassing or scaring him."
She's asked people in the area if they know the boy and has even reached out to her property manager who owns other houses in the area to see if she has any clues.
Marie says she's currently looking into some solid leads and hopes to hear something very soon.
"Everyone unfortunately will lose a parent sometime in their life," she wrote in a Facebook post. 
Marie says she hopes to help ease some of the pain Jake and his sister are going through.
She plans on sharing her own experience with the siblings and wants to offer them any emotional support they need.