Winter storm leaves thousands without power on the East Coast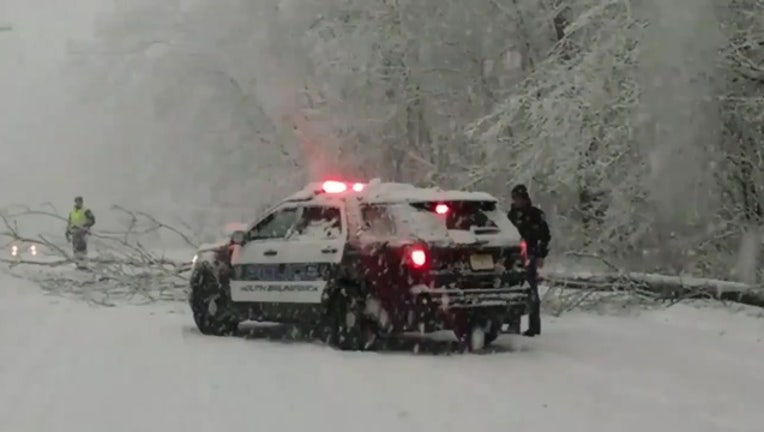 article
BOSTON, MA - Pennsylvania utility companies say more than 110,000 customers are without power following the state's second major snowstorm in less than a week.
More than a foot of snow fell in parts of Pennsylvania Wednesday, causing treacherous travel in some areas. Many schools and businesses remained closed Thursday or were holding delayed openings.
The most outages are reported by Peco, which said about 55,500 customers were without service Thursday morning. About 47,000 of those customers are in the Philadelphia suburb of Bucks County.
Utility crews were also still dealing with tens of thousands of outages remaining from a weekend storm that raked the state last Friday, when high winds downed transmission lines from Erie to Philadelphia.
___
7:30 a.m.
Residents across New England are waking up to cars caked in heavy wet snow, a messy commute and widespread power outages.
The National Weather Service says some areas got more than 2 feet of snow in a storm that started late Wednesday and pummeled the region through the night.
The small western Connecticut town of Warren got 28 inches of snow, while Adams in western Massachusetts received 26 inches as of 6:30 a.m. Thursday. That's according to unofficial reports made to the weather service.
The western and central portions of both states were hardest hit.
Burrillville, Rhode Island, got 15 inches.
Connecticut's two major utilities were reporting more than 125,000 power outages Thursday morning. Massachusetts utilities reported more than 320,000 outages and New Hampshire had about 50,000.
___
This item has been corrected to show that Massachusetts had more than 320,000 outages Thursday morning, not 45,000.
___
7:30 a.m.
Snowfall amounts varied wildly in the metropolitan New York City area.
National Weather Service meteorologist Adrienne Leptich says the "big winner" was New Fairfield, Connecticut, with a whopping 26.8 inches.
Some other areas north and west of the city also got two feet or more.
Franklin Lakes, New Jersey, got 24 inches.
In New York's Rockland County, Sloatsburg got 26 inches.
Mahopac, in Putnam County, got 18.8 inches.
On Long Island, she says the sky dumped "buckets" of snow from around 4 p.m. to 7 p.m. The accumulations ranged from around 3 to 9 inches.
Leptich says New York City "wasn't as exciting." The biggest reported accumulation was 4.7 inches in Little Neck, Queens.
___
6:55 a.m.
Hundreds of thousands of utility customers are without power in New Jersey following a second major storm in less than a week.
More than 2 feet of snow fell in parts of northern Jersey on Wednesday, while some central areas had a foot or more of accumulation. Many schools and businesses remained closed Thursday as the cleanup continued.
The state's major utilities reported more than 247,000 customers without power Thursday morning. Some customers have been without service since last Friday's destructive nor'easter.
Travel remains treacherous in many areas, and residents were being urged to avoid travel, if possible.
New Jersey Transit had resumed bus service and most of its train service was running on a regular schedule Thursday. The agency continued to cross-honor tickets.
___
12:15 a.m.
The second major storm in less than a week is moving up the East Coast, dumping heavy snow and knocking out power to hundreds of thousands of homes and businesses from Pennsylvania to New England.
Some places saw more than 2 feet of snow by late Wednesday. Montville, New Jersey, got more than 26 inches. North Adams, Massachusetts, registered 24 inches and Sloatsburg, New York, got 26 inches.
Major cities along the Interstate 95 corridor saw much less. Philadelphia International Airport recorded about 6 inches, while New York City's Central Park saw less than 3 inches.
The National Weather Service has issued a winter storm warning through Thursday for most of New England as the storm continues to make its way through.
.