WHO'S HIRING: Thousands of Houston-area job openings
HOUSTON - As jobless numbers climb, certain industries are booming more than ever, and they need more employees.
RELATED: US unemployment claims surge by another 4.4 million
If you're out of a job, the good news is that there are thousands of current openings in the Houston area and beyond.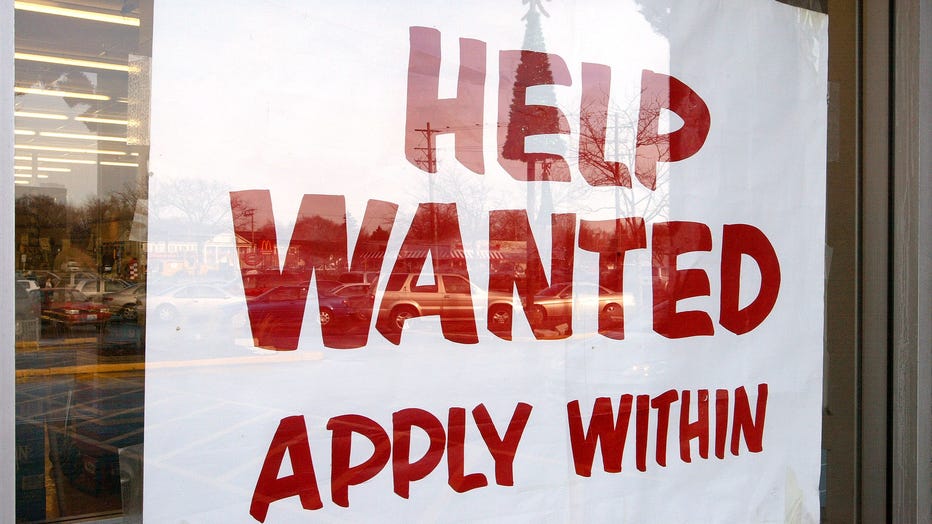 ((Photo by Tim Boyle/Getty Images))
Here's a list of where to apply now:

DELIVERY DRIVERS
Doordash
Grubhub
Postmates
Uber Eats

GROCERY STORES
H-E-B
Openings at the company warehouse, manufacturing, transportation and in stores
Kroger
More than 500 positions available in Texas
Randall's Stores
Texas openings in retail and supply chain
Walmart and Sam's Club
More than 30,000 full-time job openings in Texas
Walmart is hiring store workers and delivery drivers.


HEALTHCARE FACILITIES
CHI St. Luke's Health
More than 140 openings in the Houston area
Memorial Hermann
More than 700 job openings in the Houston area

HCA Healthcare
More than 40 job openings in the Houston area

Texas Children's Hospital
More than 500 openings in the Houston area
PHARMACIES
Walgreens
172 job openings in texas
Walgreens is hiring for temporary customer service associate roles to assist at our stores nationwide.

CVS & Aetna
More than 700 job openings in the Houston area. A new distribution center in Conroe is hiring immediately. CVS Health is accelerating a plan to fill more than 50,000 full-time and part-time positions across the country. Jobs at retail stores, warehouse distribution, customer service, pharmacy technicians

Rite Aid
Nine openings in the Houston area
 
RESTAURANTS
Dominos
Houston-area openings for delivery drivers, managers, customer service reps
The Halal Guys is hiring for dozens of positions at four Houston locations. Positions include cook, crew member and crew leader.
Openings for cooks, dish washers, bartender, server, kitchen manager
Hiring servers
Hiring delivery drivers and servers
Pizza Hut
More than 80 openings in the Houston area
Whataburger
Positions for managers, general managers and area managers available.

TECHNOLOGY
Microsoft
Openings in the Houston area

Outschool
Hiring online teachers

Zoom
This company, which offers videoconferencing services, is hiring phone account executives and phone enterprise account executives in Texas


OTHER
Amazon
75,000 new job openings, including immediate openings at its warehouses in Houston and Katy

Construction industry
More than 4,000 construction industry job openings
Houston Gulf Coast Building And Construction Trades Council
The Houston Gulf Coast Building And Construction Trades Council wants people to be aware of apprenticeship programs that are available. They say... "You can earn while you learn."  So you can make money, learn a trade and earn college credits. The COVID-19 outbreak has caused some delays in the interview process. They say people should go ahead and register now so that they are set when interviews resume.
John Moore Services
50 job openings in Houston
The company is hiring plumbers, HVAC technicians, and electricians

METRO
METRO is still hiring for several positions but is especially in need of mechanics, collision repair specialists and cleaners.
The staffing agency is filling dozens of positions including customer support positions and professional services positions.
Resource Staffing has job postings listed for contact tracers, bilingual call center reps, data entry positions for weekend, morning and evening shifts.
Trucking industry
More than 400 openings in the Houston area, including immediate openings.
Typhoon Texas is looking to fill 1,000 seasonal jobs as the west Houston waterpark eyes a summer opening when authorized by Governor Greg Abbott.  Part-time, seasonal positions are available in Water Safety, Janitorial, Food & Beverage, Front Gate, Maintenance and other areas.
UPS
Job openings in Houston, Baytown and Conroe
The company is in need of maintenance mechanics and package handlers
GALVESTON COUNTY
Galveston Pet Sitters is hiring part-time independent contractors to help take care of Galveston's fur babies. They serve Galveston Island, Jamaica Beach, Tiki Island and Omega Bay.
Texas First Bank currently has job opportunities available in Galveston County. More information and how to apply: www.texasfirst.bank
Insurance Junction is hiring. They are looking for Licensed Journeyman Electricians for residential and light commercial work in Galveston county. Candidates can email their resumes to maria.faz@mrelectric.com or call the office at 409.762.0387.
Insurance agents, paralegal assistant, &/or customer service representatives.
Action Personnel has jobs available. Interested candidates should contact Madison Granger at 409.762.0387
Several Galveston area restaurants are hiring servers. Hotels and attractions on the island also need to add to their staff.
Gulf Health Care Center Galveston needs Licensed Nurses (Licensed Vocational Nurse and Registered Nurses) as well as Certified Nursing Assistants and Hospitality Aids. A signing bonus is currently being offered.
Teachers at Ambassadors Prep Academy for 2020-2021 school year are currently being sought. Ambassadors is a TEA approved charter school serving Pre-K 3 through 8th grade. Subjects range from Math and Science to Spanish and P.E. To find out more, email connect@apagalv.org
The Galveston County Daily News is looking to hire an Account Executive.