What's in Kavanaugh's '82 calendar: sports, movies, parties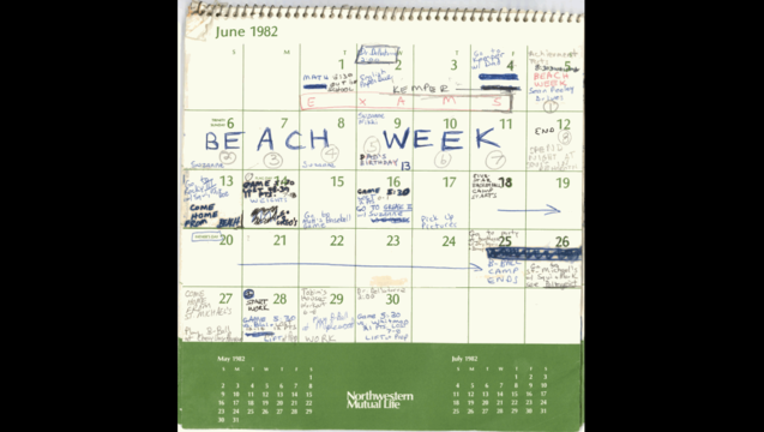 article
WASHINGTON (AP) - In detailed calendar pages provided to the Senate Judiciary Committee, Supreme Court nominee Brett Kavanaugh listed in green-and-white squares the activities that filled his summer when he was 17 years old - exams, movies, sports and plenty of parties.
The calendars were submitted by Kavanaugh's lawyers as evidence as he prepares to testify Thursday in response to allegations from Christine Blasey Ford, a Palo Alto psychology professor who says he sexually assaulted her when they were both teenagers and when he was drunk. Kavanaugh denies the allegation. The calendar pages are from the summer of 1982, which is when Ford says she believes the assault occurred. It has not been revealed where this calendar has been stored or why Kavanaugh kept it so long.
In written testimony before the Senate hearing, Kavanaugh says he never had a "sexual or physical encounter of any kind" with Ford and had never done anything "remotely resembling" the conduct she describes.
View the five-page 1982 calendar
Ford is scheduled to testify Thursday morning before the Judiciary Committee, with Kavanaugh testifying separately, after she is finished.
Nothing on the calendar appears to mention Ford, who has said she was a "friendly acquaintance" of Kavanaugh's at the time.
The May through August calendar pages mention several parties at various houses and also a beach week, highlighted in all caps the week after his exams end. Ford says she doesn't remember where or exactly when the assault took place.
It's unclear if the calendars will affect the opinions of the senators on the committee about Ford's allegation. Though a snapshot of Kavanaugh's life that summer, several days are blank and it's unlikely the calendar documents every single thing he did.
Kavanaugh's calendar does appear to list activities with two people who Ford said were at the gathering where she says she was assaulted - Mark Judge and Patrick J. Smyth, who was known as P.J. She has said Judge was in the room when it happened.
On July 1, he scribbled, "Go to Timmy's for skis w/Judge, Tom, P.J., Bernie, Squi." On July 28, he writes: "Go to Judge's."
Otherwise Kavanaugh lists normal teenage activities - playing basketball, seeing popular 1982 movies like "Poltergeist" and "Rocky III" and even a college interview for Yale, which he eventually attended.
It also appears that Kavanaugh got into trouble with his parents from time to time. On three Fridays in July, he writes that he was "grounded."
KTVU's Lisa Fernandez contributed to this report.