WHAT'S HAPPENING: Rivers pose epic Florence flood risks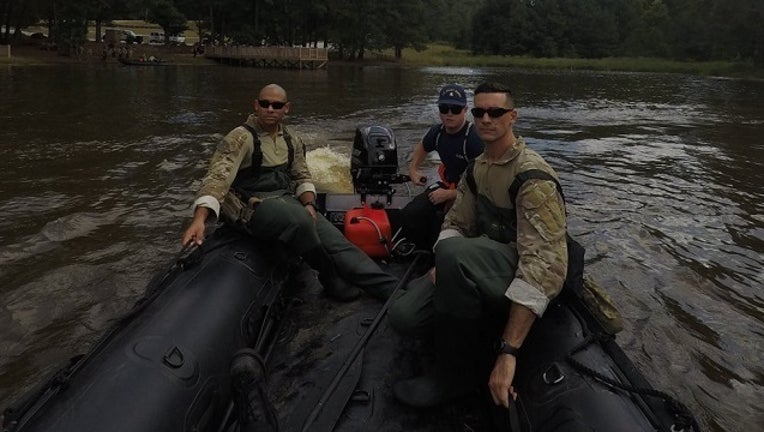 article
MIAMI (AP) - A heavy-duty response already is slogging through heavy rains and floodwaters to help people trapped or displaced by Florence's watery onslaught. Storm winds might be dropping, but rivers are rising and the next few days could bring the most destructive round of flooding in North Carolina history.
BY THE NUMBERS
Storm deaths: At least 11 people have died
Heavy rains: Nearly 31 inches of rain was reported in Swansboro, on the North Carolina coast
In the dark: More than 700,000 outages as of Sunday morning, mostly in North Carolina
Protected: More than 20,000 people in shelters in North Carolina, 6,400 in South Carolina and 400 in Virginia
Grounded: More than 2,400 flights canceled
Potential losses: Estimated $10 billion to $60 billion in economic damages
Rescued: More than 500 people needed help in high waters around New Bern and Jacksonville, North Carolina
FIND ALTERNATE ROUTES
Officials say closures could last up to a week along Interstate 95 in North Carolina. The highway could be flooded near Fayetteville and near the South Carolina state line because of expected flooding in the Cape Fear and Lumber rivers. A 16-mile stretch of I-95 near Dunn was already closed Saturday.
NORTH CAROLINA RECOVERY
Emergency management officials and nonprofit groups aren't waiting for Florence's rains to end or floodwaters to recede before starting to help people recover from the storm. Tens of thousands of meals were being prepared to serve in the most damaged areas, and hotel rooms and other temporary housing are being located for people displaced from their homes.
OUTER BANKS
Outer Banks residents and businesses owners are reporting relatively minimal damage in the low-lying barrier islands. Though the popular North Carolina tourist destination seems to have been spared the worst of Florence's wrath, the islands still have some of the fastest rates of sea level rise in the world, nearly an inch a year.
RECOVERY SUPPLIES
The government can only do so much when a storm strikes, so hardware and building supply companies get ready with batteries, gas cans, tarps and chainsaws long before landfall. Home Depot and North Carolina-based Lowe's - the two biggest home supply companies - both activated sophisticated emergency command centers with their own meteorologists.
TWO MAJOR STORMS
Hurricane Florence and Typhoon Mangkhut roared ashore on the same day, half a world apart, but the way they spread devastation was as different as water and wind . Experts say Mangkhut may well end up being the deadlier storm, though Florence could tally a higher insured damage total.
WILD HORSES
Wildlife experts say there was no need to worry about a herd of wild horses that roams North Carolina's Outer Banks. The Corolla Wild Horse Fund posted a Facebook update Saturday saying the herd of wild Colonial Spanish Mustangs were were "doing their normal thing - grazing, socializing, and wondering what us crazy humans are all worked up over."
---
RELATED: