Weather predicting Milltown Mel dies just before Groundhog Day
MILLTOWN, N.J. - Every February, hundreds of onlookers flock to the American Legion pavilion, trying to catch a glimpse of local celebrity, Milltown Mel, hoping the giant rodent doesn't see his shadow. However, Groundhog Day just won't be the same. 
The weather-predicting groundhog died just before his annual big day. On Groundhog Day, tradition holds that if a groundhog sees its shadow, we can expect six more weeks of winter. If the groundhog doesn't see its shadow, an early spring is predicted.
But Milltown has canceled its event because the wranglers don't have time to find a replacement for Mel.
"We just said, 'You know what, we can't do it this year.' You can't do it the day before, it takes a lot of planning," wrangler Russell Einbinder said. 
Milltown Mel's death was announced on a Facebook page set up for him.
"We Wranglers are sad to report that Milltown Mel recently crossed over the rainbow bridge," the post said. "Considering the average lifespan of a Groundhog is about 3 years, that is not such a shock, but Mel left us at a tough time of year, when most of his fellow groundhogs are hibernating."
The annual tradition was started back in 2009 by the former owners of a funeral home in this small community near New Brunswick.
RELATED: How accurate is Punxsutawney Phil really?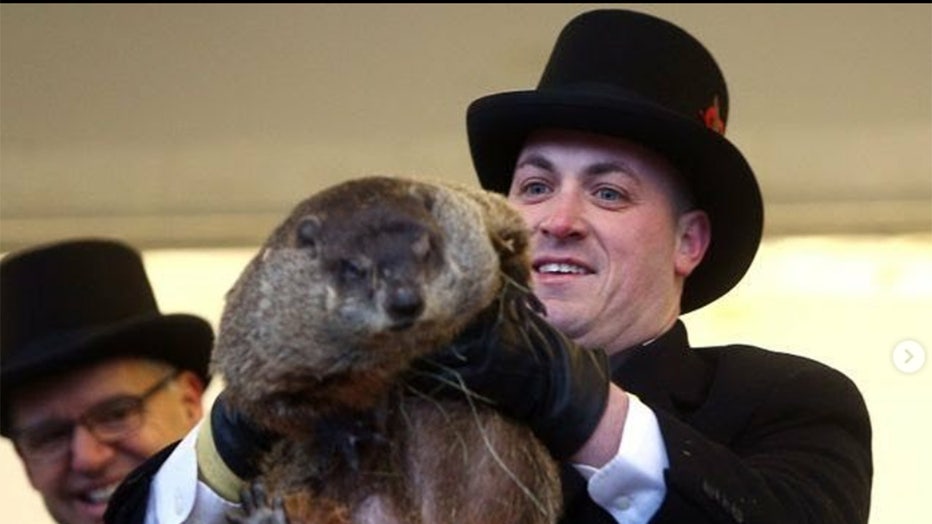 A photo of Milltown Mel from his Instagram page.
David Potter, another Milltown wrangler, told Fox 5 News that Mel had lived on its property since 2017. 
"Back in the day, Jerry Guthlein and his wife, Cathy, went to see Punxsutawney Phil, and just liked the tradition and wanted to bring it back here to Milltown," Potter said.
One thing is for certain: Just about everyone will remember Mel's name and the legacy he leaves behind.
"We love this town and it shows in all the different events that we do in this town — this little town that people from all around come to," Einbeinder said. 
Mel's handlers are working hard to find a new weather forecaster by next year.
"We will work hard on getting us a new weather prognosticator for next year, till then please check out what all of Mel's cousins have to say on Feb 2nd," the Facebook post stated.
Last year, Milltown Mel did not see his shadow, and predicted an early spring.
While Punxsutawney Phil is a more famous groundhog, Milltown Mel's handlers claim they have had a better record of predicting when spring will come.
MORE PETS & ANIMALS
2 MALE PENGUINS FOSTER HATCHLING