Video shows dramatic takedown of Seattle university gunman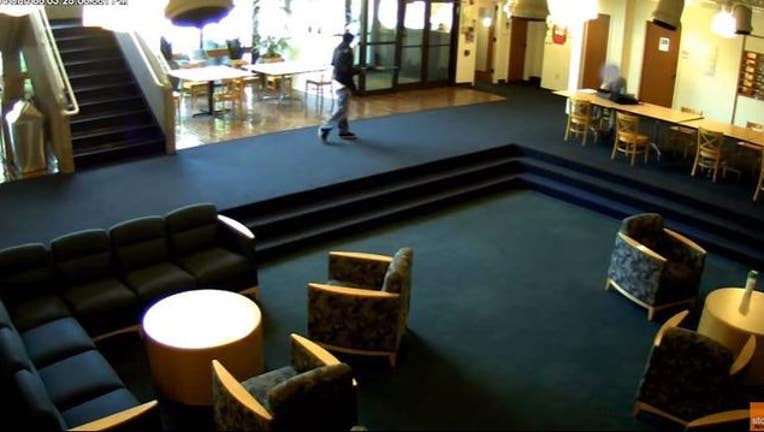 article
SEATTLE (AP) — A student at Seattle Pacific University is shown pepper-spraying a gunman then taking him to the ground during an on-campus attack in video released by authorities.
The King County Prosecutor's Office released the footage Tuesday to satisfy a public records request.
In the video, a man identified by authorities as Aaron Ybarra, then 27, is seen entering a campus building holding a shotgun. He shoots and injures one student before student Jon Meis runs into the lobby, drags him to the ground and takes the shotgun.
Police say Ybarra killed one male student on June 5, 2014, outside the building.
Ybarra has pleaded not guilty to murder and other charges and his trial is scheduled for September. His defense attorney Ramona Brandes has not disputed accounts of the shooting and says her client suffers from mental illness.
The video shows the gunman entering a lobby that appeared to be occupied by one student who initially didn't see him. A gun is pointed toward the student as a female student descends a staircase, also not immediately seeing the gunman.
The gunman fires at her and the other student runs away. The wounded student slowly walks away as the gunman appears to be reloading.
Meis arrives, squirts the gunman in the face with pepper spray and lunges at him, taking him down in a neck hold then removing the gun. The shooter rolls around before Meis returns, grabbing him again in a headlock before another man joins the fight.
At the time of the shooting, Seattle police praised Meis, a student monitor in the building, saying he "heroically intervened."
The state Court of Appeals in December upheld a ruling ordering the footage released under Washington's Public Records Act. It was sought by Seattle TV stations KOMO, KIRO, KING and Q13 Fox, as well as The Seattle Times.
The school said in a statement that it was disappointed with the release of the surveillance videos.
"We, along with others, have pursued legal action to stop the videos' release in order to protect individual privacy and prevent the emotional distress these images will have on our community," the school said.