Venezuelans gear up for major march against Maduro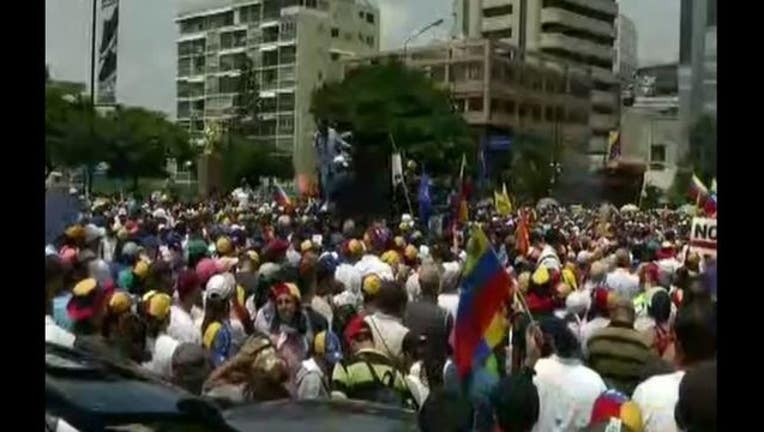 CARACAS, Venezuela (AP) - Opponents of President Nicolas Maduro called on Venezuelans Wednesday to take to the streets for what they've dubbed the "mother of all marches" against the embattled socialist leader.
Demonstrators are expected to converge from 26 different points spread across the capital to attempt to march downtown to the Ombudsman's office. It's a route tens of thousands of angry protesters have attempted a half-dozen times in the past few weeks only to find their progress blocked by light-armored vehicles and a curtain of tear gas and rubber bullets fired by riot police officers.
At least five deaths have been blamed on the strong-armed response to protests that were triggered by the government-stacked Supreme Court's decision three weeks ago to strip the opposition-controlled congress of its last remaining powers after a year-long power battle.
That move was later reversed amid overwhelming international rebuke and even a rare instance of public dissent in the normally disciplined ruling elite. But it had the added effect of energizing Venezuela's fractious opposition, which had been struggling to channel growing disgust with Maduro over widespread food shortages, triple-digit inflation and rampant crime.
With its momentum renewed, the opposition is now pushing for Maduro's removal and the release of scores of political prisoners. The government last year abruptly postponed regional elections the opposition was heavily favored to win and cut off a petition drive to force a referendum seeking Maduro's removal before elections late next year.
The government has tried to recover with its own show of force: jailing hundreds of demonstrators, barring former presidential candidate Henrique Capriles from running for office and standing by as pro-government groups violently attack opposition members of congress.
Maduro is expected to address a counter march of government supporters on Wednesday, which is a holiday celebrating Venezuela's declaration of independence from Spain two centuries ago.
The president also signed orders on TV late Tuesday activating the "green phase" of enigmatic military plans to defend Venezuela against what he describes as U.S.-backed attempts to sow chaos and overthrow him. He also said authorities in recent hours had rounded up unnamed members of an underground cell of conspirators at Caracas hotels, including some armed people who were allegedly planning to stir up violence at the march.
Maduro didn't provide any evidence to back up his claim that a coup attempt was under way, and the opposition rejected his comments as a desperate attempt to intimidate Venezuelans from exercising their constitutional right to protest.
"We're convinced the country knows who the true coup mongers are and it's against them we will march tomorrow," the opposition said in a Tuesday late-night statement.
Foreign governments are also warning about the increasingly bellicose rhetoric and repressive stance of the government.
Maduro this week said he was dramatically expanding civilian militias created by the late Hugo Chavez and giving each member a gun. There's also concern that Wednesday's dueling marches could lead to clashes after the No. 2 socialist leader Diosdado Cabello said 60,000 die hard government supporters would circulate on motorcycles to prevent the opposition from reaching its planned destination. In the past, the groups known as collectives have operated like shock troops firing on protesters as security forces stand by.
"Those responsible for the criminal repression of peaceful democratic activity, for the undermining of democratic institutions and practices, and for gross violations of human rights, will be held individually accountable for their actions by the Venezuelan people and their institutions, as well as by the international community," the U.S. State Department said in a statement Tuesday.
___
Joshua Goodman on Twitter: https://twitter.com/APjoshgoodman
___
More Associated Press reporting on Venezuela's problems can be found at https://www.ap.org/explore/venezuela-undone