US urges Turkey to uphold due process in journalist case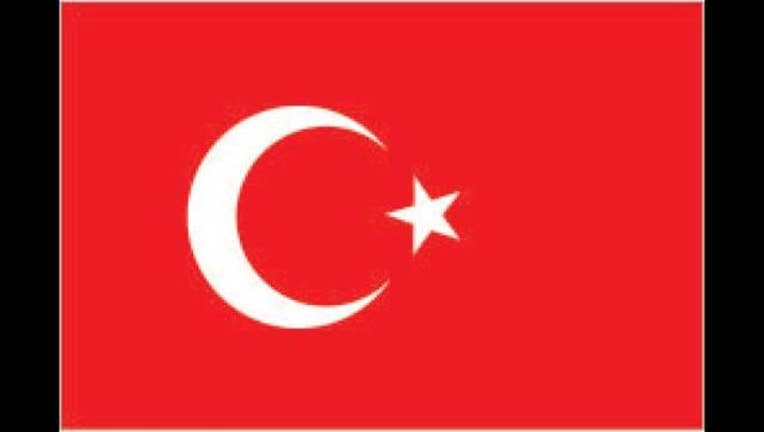 WASHINGTON (AP) — In August, Mohammed Rasool was helping two Western journalists with a dangerous assignment along Turkey's border with Iraq. Cities in the area had turned into urban warzones amid clashes between supporters of the militant Kurdish Workers Party, or PKK, and government authorities.
As a peace process to end decades of violence was breaking down, the area was at the center of a historic moment that few Western reporters were covering on the ground.
Rasool, a 24-year-old Iraqi Kurd who has worked as a fixer for The Associated Press, was helping the two Vice News reporters navigate the dangers and cultural intricacies. They covered clashes between the PKK's youth group and police, and interviewed a 13-year-old girl who had been hit by three bullets.
When the three men returned to Diyarbakir, the urban center of Turkey's Kurdish southeast, they were arrested in front of their hotel. It was Aug. 27.
Eleven days after the arrests, Turkish authorities released and deported the two British journalists, Jake Hanrahan and Philip Pendlebury. But Rasool remains in a maximum-security prison and Turkish authorities have neither indicted him nor adequately explained why they are holding him. His case is being conducted under a secrecy order, so his lawyers don't have access to the files against him, they say. Some colleagues and friends have seen him, but the interactions have been limited.
Turkish prosecutors did not respond to requests for comment on Rasool's case. But on Wednesday, Huseyin Aksoy, the governor of Diyarbakir province, told AP that the prosecutor had said Rasool was detained not for his journalism, but because there were "suspect documents" found on the hard drive of his computer. He said authorities are investigating whether the documents are criminal. An appeal for Rasool's release was rejected Saturday, according to lawyers, and no trial date has been set.
On Friday, U.S. State Department spokesman Mark Toner called on Turkey to uphold due process in Rasool's case.
"We urge Turkish authorities to ensure that their actions vis-a-vis Mr. Rasool's case uphold universal democratic values, including obviously due process, freedom of expression and access to media and information," he said. "Media and due process are key elements of every healthy democracy and in fact are enshrined in Turkey's constitution, in its OSCE commitments as well as in Turkey's international human rights obligations. I would just underscore our desire to see Mr. Rasool's case held up to international legal standards as well as human rights standards."
Rasool's detention comes at a time of stepped-up pressure on journalists in Turkey. Since the Kurdish conflict erupted anew in recent months, authorities have imposed curfews and travel bans that restrict journalists' ability to cover clashes. Apart from Rasool, 23 journalists are in jail, according to Turkey's Contemporary Journalists' Association. Most are journalists working for pro-Kurdish media who have been accused of having links to the Kurdish rebels.
The U.S.-based Committee to Protect Journalists has called the crackdown a crisis and said that Rasool's case, as well as the expulsion last month of Dutch journalist Frederike Geerdink, is hampering international coverage of the Kurdish conflict.
"The situation for journalists covering southeast Turkey is growing increasingly problematic," CPJ Deputy Director Robert Mahoney wrote last month. "The government must allow journalists to work freely throughout the country. A first step toward that would be to free Mohammed Ismael Rasool immediately and to allow Frederike Geerdink to continue doing her work."
The two British reporters hired Rasool in part because he speaks English, Turkish, Arabic, Kurdish and Persian fluently. Rasool is also known for fine reporting instincts, skilled at developing sources and ferreting out information in a region that uses all of the languages Rasool has mastered. Reporters trying to work in foreign countries, especially war zones, often use fixers like Rasool to keep them out of harm's way.
Hanrahan said Rasool's help was essential in southeast Turkey.
"You can't imagine turning up to a place like that without someone like Rasool," he said. "There were teenagers armed to the teeth in the streets, but we thought it was an important story to cover."
The AP also relied on Rasool's skills last year in Suruc, Turkey, while covering the war raging across the border in the Syrian city of Kobani. And just 10 days before he was arrested, he joined AP reporters on Turkey's Aegean coast to interview Syrian refugees fleeing misery for an uncertain future in Europe.
A native of Irbil in the Kurdish region of Iraq, Rasool came to Turkey as a student of international relations. He is close to finishing a master's degree at Istanbul's Fatih University. His elder brother, Diyari Rasool, says Mohammed has been passionate about learning languages, especially Arabic, since primary school.
He began working as a stringer for international news organizations last year and took to it strongly. A slight man with a warm smile and arch sense of humor, Rasool made many friends among both Western and local journalists. However, he saw the journalism as field work for the academic career that is his ultimate goal.
"He wants to become an expert in his field and then come back to serve his country," said Diyari Rasool.
Azuolas Bagdonas, who taught Rasool in seven classes, called him one his best students. He described Rasool as "intelligent, sensible and sensitive" and noted his love for Turkey and Turkish culture. Rasool is an aficionado of Turkish cuisine, and is known for finding the best local kebab in any Turkish town.
Rasool overcame many dicey moments in his work, even guiding video journalists to the front line where Kurdish peshmerga soldiers from his home region battled Islamic State militants. But the place where he landed in trouble was Turkey, a NATO member with aspirations to join the European Union.
After the Vice team was arrested, police claimed an informant had reported them for supporting the Islamic State group— an unlikely charge given Rasool's work with Vice documenting IS atrocities. Later, according to Rasool's lawyers, prosecutors accused the three of carrying out propaganda for the PKK, which is a sworn enemy of the IS group.
Yaman Akdeniz, a prominent law professor in Turkey and an adviser to Rasool's legal team, said the initial IS charges were never mentioned in court documentation.
"It looks like a fishing expedition," he said.
Four days into the detention, Rasool and the two British journalists were moved from a jail in Diyarbakir to a high-security prison in Adana, a five-hour drive from where their local lawyers are based. The lawyers say that prosecutors have told them they can't release Rasool until they complete an analysis of his hard drive. Akdeniz said prosecutors have not explained why this has taken so long. Because of the secrecy order, the lawyers say they don't know what police have done, what legal reports have been prepared and whether there is any evidence against him.
Under the Turkish legal system, the prosecutor could take months to write an indictment, and a suspect held under suspicion of terrorism can be held for years without charges.
Mohammed Rasool's father, Ismail Rasool, said he believes that despite the uncertainty his son is keeping his spirits high.
"Humans can't live without hope," he said.
____
Suzan Fraser in Ankara, Ayse Wieting in Istanbul, Mucahit Ceylan in Diyarbakir, Turkey, and Bram Janssen in Irbil, Iraq, contributed to this report.
____
On Twitter: Desmond Butler at https://twitter.com/desmondbutler