UGA students: 'Pray 4 Carolina'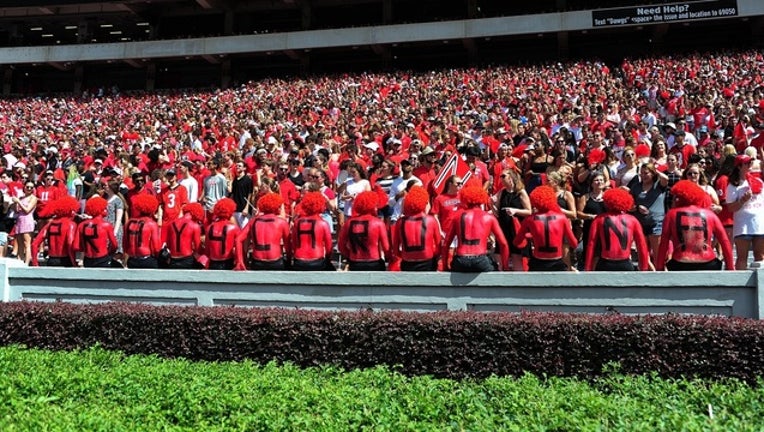 article
ATHENS, Ga. - Sanford Stadium was a sea of red and black Saturday as the Bulldogs hosted Middle Tennessee. Despite the good football weather in Georgia, the Dawgs had their neighbors to east on their mind.
Getty Photographer Scott Cunningham grabbed a shot of a special message for those who continued to be impacted by Florence this weekend. More than a dozen students, dressed in black slacks and donning red, curly wigs, stood behind the hedges. Their bodies fully painted red, each with a black letter or number painted on their backs. In order, the students spelled out "Pray 4 Carolina."
It is a heartfelt message to their friends and neighbors in North and South Carolina who have been battered since Thursday evening by Florence. Several deaths have been attributed to the storm and the damage has only begun to be assessed Saturday. The slow-moving storm continued to dump feet of rain on the Carolinas.
COMPLETE COVERAGE: Hurricane Florence
Just last week, Georgia was at Williams-Brice Stadium playing the South Carolina Gamecocks. As of 2 p.m. Saturday, the center of the storm was located about 75 miles east-southeast of the Gamecocks' campus. The Bulldogs won last week's game but proved with their message Saturday that they are rivals only on the gridiron.
On social media from the game, several people were echoing the sentiments shown beside the field. Some folks from the Carolinas who were forced to evacuate because of the storm wrote online they used the opportunity to attend the game.
The Bulldogs beat Middle Tennessee 49-7.
RELATED: Fromm leads No. 3 Georgia past Middle Tennessee 49-7