Trump signs bipartisan measure to confront opioid crisis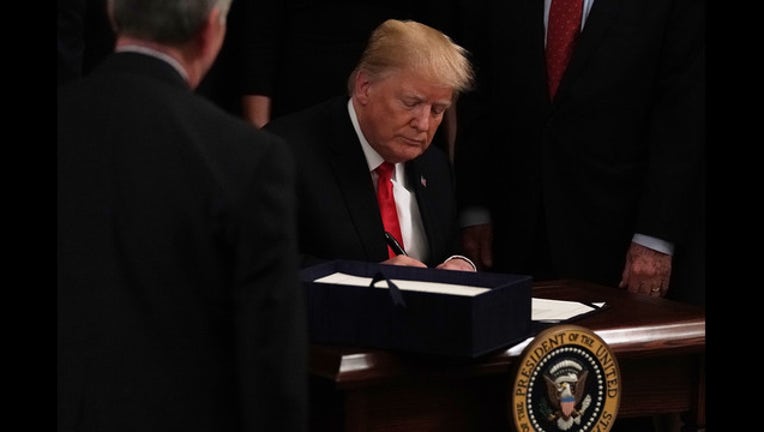 article
WASHINGTON (AP) - President Donald Trump pledged on Wednesday to put an "extremely big dent" in the scourge of drug addiction in America as he signed legislation intended to help tackle the opioid crisis, the deadliest epidemic of overdoses in the country's history.
Nearly 48,000 people died last year from overdoses involving opioids. Overall, U.S. drug overdose deaths have started to level off, but Health and Human Services Secretary Alex Azar says it's too soon to declare victory.
The legislation will add treatment options and get the U.S. Postal Service to screen overseas packages for a synthetic form of opioids called fentanyl that are being shipped largely from China.
The measure mandates advance electronic data on all international packages, including those delivered by the Postal Service, and set deadlines for the screening to be put into place by the Department of Homeland Security, Customs and Border Protection and the Postal Service.
The Obama administration secured a commitment to expand treatment and Congress provided $1 billion in grants to states. Trump declared the opioid epidemic a national emergency and two major funding bills have passed under his watch.
"My administration has also launched an unprecedented effort to target drug dealers, traffickers and smuggler," Trump said. "We are shutting down online networks, cracking down on international shipments and going after foreign traffickers like never before."
The White House says the Justice Department has shuttered a large "Darknet" distributor of drugs, and in August indicted two Chinese nationals accused of manufacturing the shipping fentanyl and 250 other drugs to at least 25 countries and 37 states.
Fentanyl is inexpensive but some 50 times more powerful than heroin, according to Sen. Rob Portman, R-Ohio., who was recognized at the East Room event along with other lawmakers instrumental in getting the bill passed.
Despite Trump's calls for using the death penalty against major drug dealers, his administration has built on the treatment approach that Obama favored.
The legislation covers not only opioids but also any kind of substance abuse. It expands Americans' access to treatment and changes the law that prohibited Medicaid from reimbursing residential treatment at certain facilities with more than 16 beds.
It includes $60 million for babies born dependent on these drugs and authorizes a variety of programs, such as drug courts that work to get offenders into treatment instead of behind bars.
"Together we are going to end the scourge of drug addiction in America," Trump said. "We are going to end it or we are going to at least put an extremely big dent in this terrible problem."
Trump also recognized more than 20 corporations for private sector commitments to fight the opioid crisis.
___
Online:
Health and Human Services Department site on opioids: https://www.hhs.gov/opioids/