Trump says Kathy Griffin should be ashamed for severed head video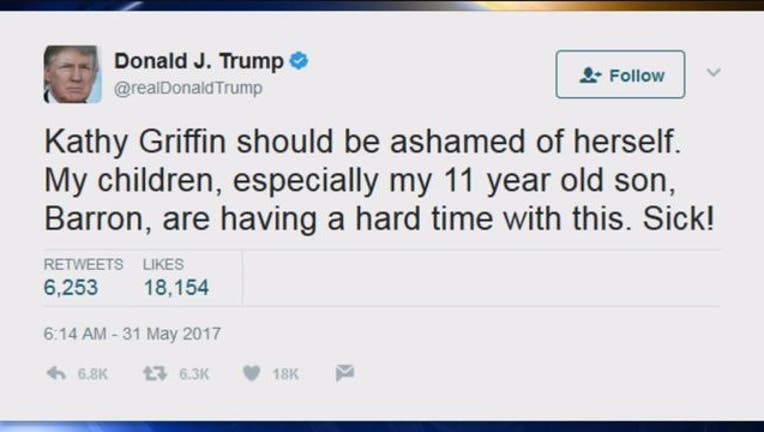 article
WASHINGTON - (AP) -- President Donald Trump says celebrity Kathy Griffin "should be ashamed of herself" for appearing in a video holding what looked like Trump's bloody, severed head.
In a post on his Twitter account Wednesday morning, the president says, "My children, especially my 11-year-old son, Barron, are having a hard time with this. Sick!"
Griffin, who helped with CNN's New Year's Eve coverage, has apologized, saying that the brief video was "too disturbing" and wasn't funny.
"I went too far," she says in a second video. "I sincerely apologize."
Many people online called for Griffin to be jailed.
The first video showed a straight-faced Griffin slowly lifting the bloody head. She originally described the project with photographer Tyler Shields as an "artsy fartsy statement" mocking the commander in chief.
© 2017 The Associated Press. All rights reserved. This material may not be published, broadcast, rewritten or redistributed.