Trump: Russia probe 'really, really unfair for the midterms'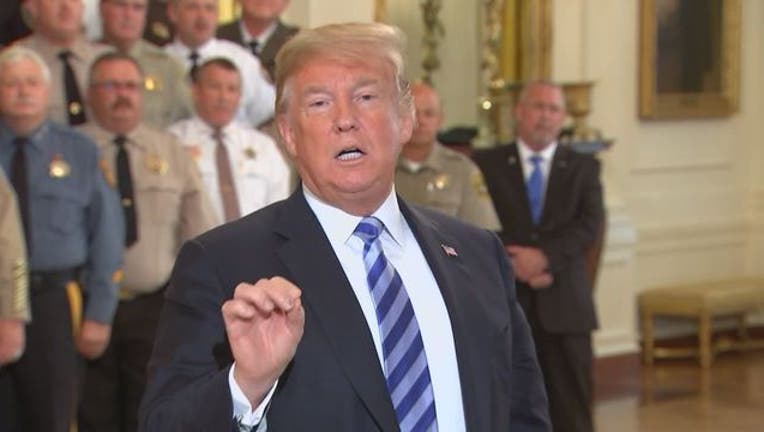 article
FARGO, N.D. (AP) — President Donald Trump said Friday that the ongoing investigation into Russian interference in the 2016 presidential election is not only bad for the country, it's "really, really unfair for the midterms."
Trump said the inquiry should have been wrapped up a "long time ago."
Asked about the investigation, which he has repeatedly denounced as a "witch hunt," Trump reiterated his insistence that there was no collusion between anyone on his presidential campaign and the Russian government. He said it was long past time for the investigation to have ended.
"We have to get it over with. It's really bad for the country. It's really unfair for our midterms. Really, really unfair for the midterms," Trump told reporters traveling with him aboard Air Force One. "This thing should have been over with a long time ago."
Trump has portrayed the probe as a waste of time that has lasted too long and been a distraction for the country. He again argued that the case was being prosecuted by partisan Democrats, even though the head of the investigation, Robert Mueller, is a lifelong Republican.
The president spoke to reporters in the midst of a two-day campaign swing through states where Republicans hope to expand their narrow 51-49 majority in the Senate by knocking off vulnerable Democratic Sens. Jon Tester of Montana and Heidi Heitkamp of North Dakota.
Trump was flying from Montana to North Dakota to attend a fundraiser for Republican Rep. Kevin Cramer, Heitkamp's opponent, when he spoke to reporters accompanying him on the trip, part of an intense campaign schedule Trump has planned through the Nov. 6 elections.
Asked if he would consider allowing a government shutdown before the elections, Trump said, "I would do it because I think it's a great political issue." But he said some Republican lawmakers would "rather not do it because they have races, they're doing well, they're up."
The president told Fox News in an interview broadcast earlier Friday that a government shutdown "is up to me, but I don't want to do anything that's going to hurt us or potentially hurt us because I have a feeling that the Republicans are going to do very well."
In Fargo, Trump rattled off a list of what he considers his administration's accomplishments as he sought to bolster his staunch ally Cramer.
The president pointed to the Republican congressman as the best choice for the state's Native American community, reprising an argument he made to black voters in 2016. "I go right back to where I was two years ago when I was campaigning: What do you have to lose?" Trump asked.
He brought one man to the stage to talk about how his administration was helping the coal industry. "What your administration has done is bring us back to life," the man told Trump.
Afterward, Trump stopped in Sioux Falls, South Dakota, to attend a fundraiser for Republican Rep. Kristi Noem, who is running for governor. He was to return to the White House late Friday.
He urged Tester's defeat at a rally Thursday in Billings, Montana, and praised Tester's opponent, state Auditor Matt Rosendale.
Trump has shown increasing concern about the stakes for Republicans and, by extension, himself in the elections that will determine political control of Congress for the next two years.
Democrats hope to ride a wave of anger among liberals toward Trump to take back control of at least the House, while Republicans aim to keep control of the House and the Senate, partly to protect the president from possible impeachment proceedings and congressional investigations.
Showing his concern, Trump recently suggested on Twitter that the Justice Department had put Republicans in jeopardy for the midterms with the indictments of two GOP congressmen who were among Trump's earliest supporters, saying "two easy wins now in doubt."
Rep. Duncan Hunter of California was indicted on charges that include misuse of campaign funds, and Rep. Chris Collins of New York has been charged with insider trading. Both deny the charges.
Trump has pledged to spend more time on the road campaigning than his immediate predecessors. His campaign operation has scheduled back-to-back rallies late next week in Missouri and Mississippi.
In Montana, Trump warned that a Democratic-controlled Congress would pursue impeachment despite the strong economy and set a precedent that would hurt future presidents. A few Democratic lawmakers want to see Trump removed from office.
"Let's say a Democrat gets elected and let's say we have a Republican House. We will impeach that Democrat, right?" Trump said. "You're going to have a country that's going to turn into a Third World country, because if the opposite party becomes president, every time before it even starts, before you even found out whether or not he or she is going to do a great job, they'll say, 'We want to impeach him!'"
"If it does happen, it's your fault because you didn't go out to vote," Trump said.
___
Superville reported from Washington.