Trump makes false claim on photo IDs for groceries during rally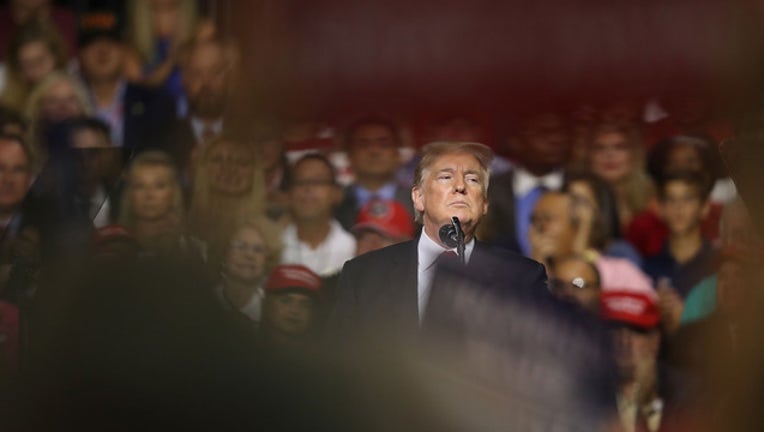 article
TAMPA, Fla. (AP) -- President Donald Trump on Tuesday wrongly claimed that shoppers need to show photo identification to buy groceries and accused Democrats of obstructing his agenda and his Supreme Court nominee during a raucous rally aimed at bolstering two Florida Republicans ahead of the state's primary.
Trump, addressing thousands of supporters in one of the nation's top electoral battlegrounds, also mounted a rigorous defense of his trade agenda, accusing China and others of having "targeted our farmers."
"Not good, not nice," he told the crowd as tensions with China continue to escalate, adding: "You know what our farmers are saying? `It's OK, we can take it." The Trump administration last week announced plans for $12 billion in temporary aid to help farmers deal with retaliatory tariffs from U.S. trading partners in response to Trump's policies.
Tuesday night's freewheeling rally lasted more than an hour and included numerous attacks on the media, as well as one glaring false claim. Trump was railing against the idea of noncitizens voting and advocating stricter voting laws when he claimed that IDs are required for everything else, including shopping.
"If you go out and you want to buy groceries, you need a picture on a card, you need ID," he said at the event at the Florida State Fairgrounds in Tampa. "You go out and you want to buy anything, you need ID and you need your picture."
A White House spokesman did not immediately respond to questions about when the billionaire president last bought groceries or anything else himself. Photo IDs are required for certain purchases, such as alcohol, cigarettes or cold medicine.
The comment came as Trump waded into Florida Republican politics, picking sides as he embraced U.S. Rep. Ron DeSantis in a competitive primary for governor and backed the Senate campaign of his longtime ally, Gov. Rick Scott.
"We have to make sure Rick Scott wins and wins big," Trump told the crowd. "It's time to vote Bill Nelson out of office."
Trump, who is seeking Judge Brett Kavanaugh's confirmation to the Supreme Court in the fall, also made the case that voters need to elect more Republicans, pointing to Democratic opposition to his pick.
Democrats "don't want to give Trump any victory," he said. "They will do anything they can to not help the Trump agenda."
Trump has publicly threatened to shut down the federal government over his push to overhaul the nation's immigration system and fund his signature border wall, though officials say he has privately assured staff he wouldn't provoke a fiscal crisis before midterms. The president avoided making an outright reference to a government shutdown during the rally, saying, "We may have to do some pretty drastic things" unless Democrats support his agenda.
Instead, he spent much of the rally highlight strong economic numbers and praising DeSantis as "a tough, brilliant cookie." He predicted DeSantis will win against Agriculture Commissioner Adam Putnam in the state's Aug. 28 Republican primary.
Trump, who makes frequent trips to Florida and his private Palm Beach Mar-a-Lago club, criticized Nelson's policies and claimed the only time he sees the senator is "five months before every election."
"After a while, you forget who's the senator," Trump said.
Scott didn't join Trump at the rally but appeared with him at an earlier roundtable event.
DeSantis has tied his campaign for governor directly to Trump, appearing on Fox News more than 100 times to talk about federal issues and defend the president. DeSantis has campaigned with Fox's Sean Hannity and Donald Trump Jr. and uses humor in a new ad to show his alliance with the president, teaching one of his two children to "build the wall" with blocks.
Putnam, a state agriculture commissioner and former congressman, has run a more traditional campaign for governor, barnstorming the state with campaign events aimed at building upon his family's deep ties to the state.
Trump, in railing against the idea of allowing noncitizens to vote in some elections, said at the rally, "Only American citizens should vote in American elections."
He also advocated for requiring voters to present photo identification, even though Florida already has such a law on the books.
"The time has come for voter ID like everything else," Trump said, before making his claim about groceries.
"It's crazy," he added, "but we're turning it around."