Trump launching rally blitz in final stretch of midterms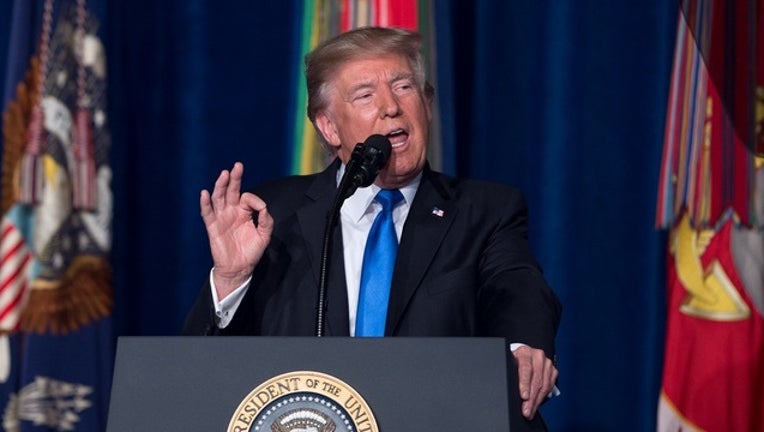 article
WASHINGTON (AP) - President Donald Trump is kicking off a final rally blitz with just days to go before midterm elections that will determine whether Republicans retain control of Congress. He'll attend 11 events across eight battlefield states over the next six days.
The final push was set to begin Wednesday night in Estero, just outside Fort Myers, in Florida, where Republican Gov. Rick Scott is challenging Democratic Sen. Bill Nelson for U.S. Senate. Democrat Andrew Gillum and Republican Ron DeSantis are locked in a tight race to replace Scott as governor. Trump's rally lineup also includes a stop in Pensacola, Florida. He has scheduled two rallies each in Indiana and Missouri, plus stops in Tennessee, Georgia, Ohio, Montana and West Virginia.
It is aimed at bolstering Republican turnout and countering Democratic enthusiasm heading into Tuesday's vote.
Former President Barack Obama will also campaign in Florida, appearing Friday for Nelson and Gillum, the Tallahassee mayor.
While Trump is not on the ballot this time around, both Democratic and Republican strategists have reported that Trump's rallies - the centerpiece of his unconventional and underestimated 2016 campaign - have been a boost for local candidates, generating hundreds of thousands of dollars in free media and boosting Republicans in post-rally polls.
On Tuesday, Trump supporters began lining up around 5:30 a.m. Wednesday outside the Hertz Arena. And by late morning, there were about 3,000 people already in line for the event scheduled to start at 7 p.m. Some local businesses were letting their employees take the day off so they could attend, according to the Naples Daily News.
By Election Day, Trump will have held 30 rallies since Labor Day, according to the White House. He's been holding events in competitive House districts and in states with competitive senatorial and gubernatorial races.
More than 3.4 million people have already voted in Florida, surpassing the number who voted early or by mail four years ago.
History and recent polls suggest Republicans will lose a significant number of seats in the House. Democrats are facing an uphill battle to gain control of the Senate, with several vulnerable incumbents running in Republican-leaning states.
___
Associated Press photographer Chris O'Meara in Estero, Florida, contributed to this report.