Trump holding rally in West Virginia to support AG Morrisey in US Senate race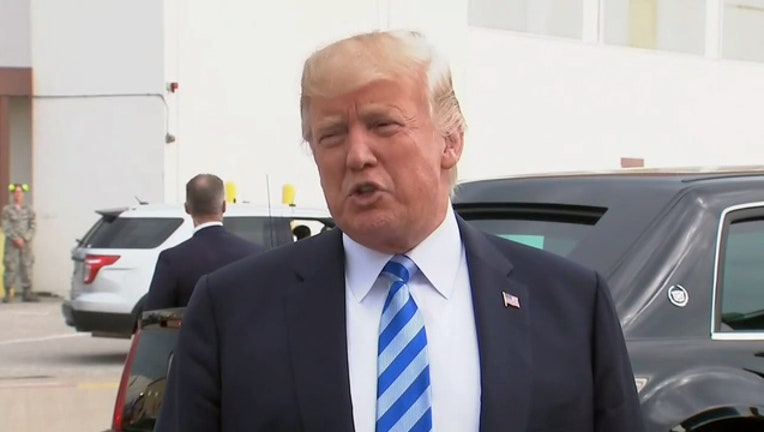 article
CHARLESTON, WV (AP) - President Donald Trump is in West Virginia to campaign on behalf of the "hardworking and spectacular" Attorney General Patrick Morrisey, who is hoping to flip the seat from Democratic challenger and incumbent Sen. Joe Manchin in the upcoming midterm elections.
Morrisey, who won the Republican primary, hopes to give the GOP a much-needed win in one of the top Senate battlegrounds as Democrats set the stage for a tough battle in November to regain control of the House.
The campaign stop comes just hours after former Trump campaign chairman Paul Manafort was found guilty of five counts of filing false income tax returns, one count of failing to file a report of a foreign bank account in 2012 and two charges of bank fraud. 
The jury couldn't reach a verdict on 10 counts -- three regarding his failing to file reports of foreign bank accounts and the rest of the bank fraud and bank fraud conspiracy charges.  No sentencing date has been set. Prosecutors have until Aug. 29 to decide whether they will seek a retrial on the 10 counts where the jury hung.
After landing in West Virginia on Air Force One, Trump expressed sorrow for Manafort but declared that the conviction "has nothing to do with Russian collusion," calling it "a disgrace."
Almost at the same moment Manafort was convicted in Alexandria, Virginia, Trump's former personal lawyer and "fixer," Michael Cohen, pleaded guilty to campaign-finance violations and other charges, saying he and Trump arranged the payment of hush money to porn star Stormy Daniels and a former Playboy model to influence the election.
In a deal reached with federal prosecutors, Cohen pleaded guilty to eight counts in all, including tax evasion and making a false statement to a financial institution. He could get about four to five years in prison at sentencing Dec. 12.
In entering the plea, Cohen did not name the two women or even Trump, recounting instead that he worked with an "unnamed candidate." But the amounts and the dates all lined up with the payments made to Daniels and Playboy Playmate Karen McDougal.
Cohen said the first payment was "in coordination and at the direction of a candidate for federal office," and the second was made "under direction of the same candidate."
Information gathered from Fox News and the wire sources from the Associated Press.