Channelview chemical plant company responds to lawsuit filed by truck driver following massive fire last week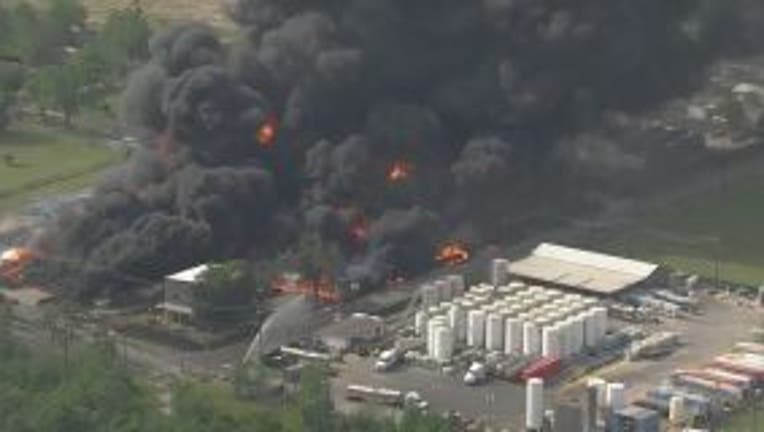 HARRIS COUNTY, Texas - The chemical plant company, K-SOLV, is responding after a truck driver filed a lawsuit against the company following a massive fire last week in Channelview. 
Antonio Alvarez says he sustained substantial injuries and trauma while escaping the fire. He's suing K-SOLV for negligence for failing to enforce safety rules and for not maintaining a safe working environment for contractors.
According to a statement from K-SOLV, the worker wasn't located within the warehouse fire vacinity. 
"On Tuesday, a lawsuit was filed in Harris County by a third-party truck driver working for L&B transportation who was visiting the K-Solv dock-side of the facility at the time of the warehouse fire. The suit claims the driver sustained injuries related to the De Zavalla Road incident located on the opposite side of the road.
We are checking the cameras on site, but initial reports have revealed that he was not located within the warehouse fire vicinity. He was positioned across the street, sleeping in the cab of his truck, and an employee awakened him to exit the premises per safety protocols. This person was escorted to the docks by employees who indicate he was attempting to record the incident with his phone while boarding the vessel. The claimant departed the facility safely via vessel to the safest rally point.
Once the vessel docked, first responders were on standby to provide any aid required. Employees asked the driver multiple times if he had any injuries or required medical assistance. The driver declined all medical services available and left on his own accord Tuesday evening.
Our first priority remains the safety of our employees and all personnel located at our facility. Response protocols are in place to aid employees and visitors in a safe and prompt departure of the facility, if needed. K-Solv will continue our investigations into these claims and respond accordingly."