Three Kansans dead, 2 others ill from contaminated Blue Bell ice cream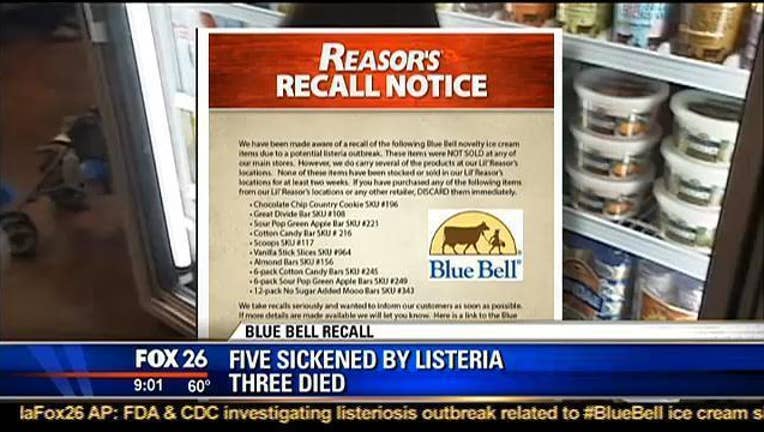 For the first time in its 108-year-history, Blue Bell ice cream is the target of an FDA recall.
If you have half-gallons, pints or cups of Blue Bell in your freezer, you have got nothing to worry about.
"They're typically more of a food service item and not found in your typical supermarket or grocery store," says Blue Bell CEO Paul Kruse.
The recalled products are:
Chocolate Chip Country Cookie

Great Divide Bar

Sour Pop Green Apple Bar

Cotton Candy Bar Scoops

Vanilla Stick Slices

Almond Bar

No Sugar Added Mooo Bar (regular Mooo Bars not included)
In a telephone interview, Blue Bell C.E.O. Kruse told us the contaminated products were all made on a single production line at the Brenham plant between January 2014 and January of this year.
"We have not since used it and more than likely it will be taken out of commission," Kruse said.
All the recalled items, Kruse says are no longer being sold anywhere.
The C.E.O. says it's more than a coincidence that the three who died and the other two that got ill from the contaminated ice cream had all spent time for unrelated causes in the same Kansas hospital.
"It appears that one item was consumed by the people who did get sick there," says Kruse.
The state health department has taken no enforcement action against Blue Bell Creameries and says it is operating in compliance with food safety laws.