Spot the white shark! Many can't in this photo taken off Cape Cod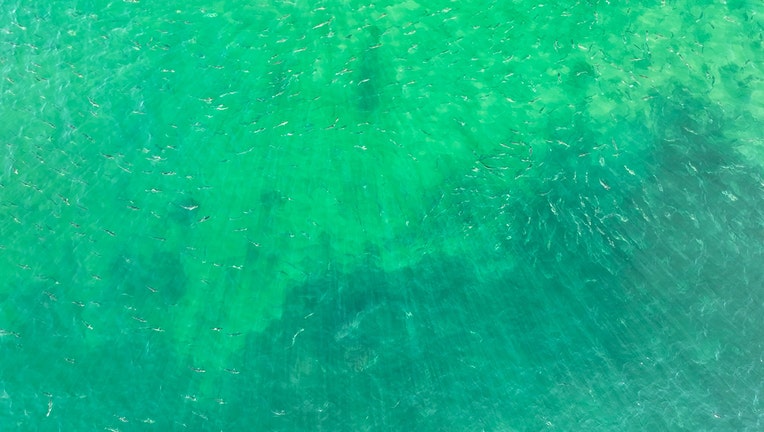 article
Do you think you have what it takes to uncover a great white shark hiding in the open waters along the Atlantic?
A research team with the Atlantic White Shark Conservancy (AWSC), the region's leading white shark research non-profit organization, captured this photo from drone footage last field season. 
They recently posted the photo to social media, asking followers to spot the white shark.
The photo was taken off the outer arm of Cape Cod, Massachusetts. The smaller fish you see in the photo are striped bass, but can you see past the ocean floor and find the large, hidden beast?
SEE WHAT HAPPENS WHEN A DIVER COMES FACE-TO-FACE WITH A GREAT WHITE SHARK
Still stumped? 
If you are still scratching your head while searching, you can thank the shark's camouflage through countershading for the headache, the AWSC said. White sharks use this to hide from predators and prey.
Don't give up just yet. We will give you a hint. Center your focus in the dead center of the picture about 3/4 of the way down in the darker shading. However, you will first need to look past the school of striped bass on the surface of the water.
Stop scrolling now if you don't want us to spoil the hide-and-seek fun. The conservancy helped others by circling the shark for those still stumped.
NEW SHARK-SAVING TECHNOLOGY AIMS TO PROTECT SPECIES' MOST VULNERABLE HABITATS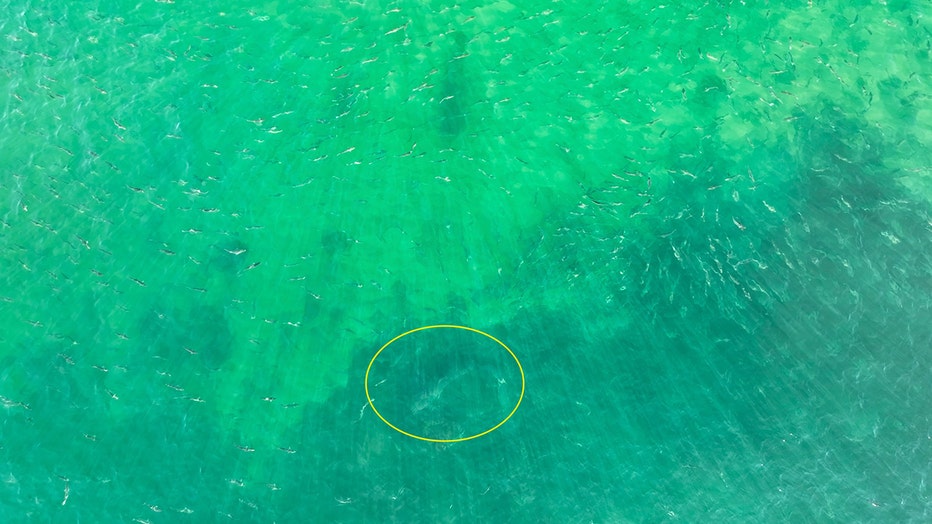 A research team with the Atlantic White Shark Conservancy captured a white shark in this screenshot from drone footage off the outer arm of Cape Cod, Massachusetts. (Atlantic White Shark Conservancy)
It was footage like this collected during the 18 research trips conducted in 2022 that helped the AWSC team identify 55 new individuals and documented the return of 63 sharks that had been identified in previous years.
In years past, the conservancy said they have had white shark sightings as early as April. However, peak season is in August, September, and October.
WATCH: SHARKS IN A FEEDING FRENZY OFF OF LOUISIANA
The AWSC said they have identified more than 600 white sharks to date since they began monitoring the population in 2014. Their catalog can be accessed in their White Shark Logbook.
"We encourage everyone on the East Coast of the U.S. and Canada who encounters a white shark to send us video footage and photos, so we can continue to build and enhance the catalog," said Cynthia Wigren, CEO and co-founder, Atlantic White Shark Conservancy.
According to the conservancy, the apex predators play a vital role in maintaining a healthy and balanced marine ecosystem. They are also considered a keystone species, meaning they are integral to the ecology they inhabit.