Spike Lee: Don't call 'BlacKkKlansman' a comeback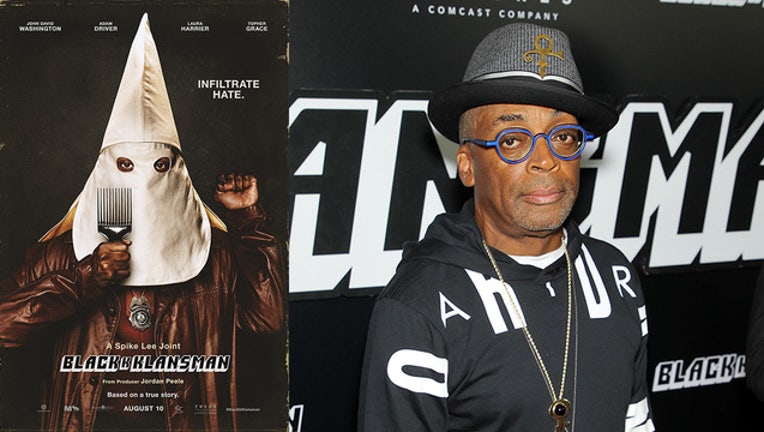 article
NEW YORK (AP) — Spike Lee heard the whispers.
Just a few years ago, some were suggesting that Lee was no longer the essential filmmaker he had once been. There had been critical and box-office disappointments. He was hunting for funding on Kickstarter. His remake of the Korean classic "Oldboy" was re-edited against his wishes.
As Lee readies his latest "BlacKkKlansman," his incendiary satire of white supremacy, those whispers are long gone. If it ever didn't, the phrase "a Spike Lee joint" again carries with it something urgent and vital.
"What's the famous Mark Twain quote? My demise has been greatly exaggerated? A couple (people) had written me off: I'm done. Over! Not relevant!" said Lee in a recent interview, with a prolonged cackle. "But you know what? They don't know! Count me out if you want to! Come on, I'm in Brooklyn! We go hard!"
At the suggestion that the change has been less his than America's — some have said the culture caught up to him, rather than vice versa — Lee reaches a still higher pitch.
"Well, I got another hundred yards!" exclaims the 61-year-old filmmaker, roaring with laughter at the discovery of one of his favorite things: a good sports metaphor. "I got me another Usain Bolt hundred yards!"
Lee was introduced to the story of "BlacKkKlansman" by Jordan Peele ("Get Out") who called up Lee with the true-life tale of African-American police detective Ron Stallworth, who in 1979 infiltrated a Colorado Springs, Colorado, cell of the Ku Klux Klan. There was already a script, but Lee reworked it with Kevin Willmott to add what he calls "more flavor."
And while the crew is peopled by longtime collaborators of Lee's, the cast is full of, as Lee says, "new blood." John David Washington, the eldest son of Lee's go-to leading man, Denzel Washington, stars as Stallworth. ("You can't write that stuff!" says Lee of his second-generation Washington star.) The other top roles are also Spike Lee joint newbies: Adam Driver plays a fellow detective; Topher Grace plays former KKK leader David Duke.
It all adds up to the year's most explosive, rip-roaring commentary on race in America — and as Lee insists, around the globe — drawing a straight line from yesterday's Klan to today's White House. While much of "BlacKkKlansman" has a part comic vibe, reveling in the KKK's dimwitted absurdity, it concludes in a searing present-day coda. Lee ends the movie with footage of the white nationalists march in Charlottesville, Virginia, that turned violent in clashes with counter-protesters. Anti-racism activist Heather Heyer was run over and killed. President Donald Trump afterward said there were good people "on both sides."
"I believe that what happened in Charlottesville was a pivotal moment in American history where an American president had a chance to denounce hate groups like the Klan, the KKK, neo-Nazis, the alt-right, and chose not to do so," says Lee. "The stories will write that this guy in the White House was on the Wrong side of History, with a capital W for 'Wrong' and a capital "H'' for 'history.' Wrong. And I believe this film is on the right side of history."
Lee traces the rise in white supremacy and more blatant expressions of racism today directly to Trump's rhetoric — though he refuses to use the president's name.
"It's the guy in the White House," he says. "It's not even dog whistles. They're not even doing it on the sneak! They're not even doing it on the low-low. This is blatant. This is like yelled through a megaphone. They're not even trying to be coy or sneaky about it."
Focus Features will release "BlacKkKlansman" nationwide Friday, a year after Charlottesville. Lee was prepping the film to shoot in the fall when he saw the images from Charlottesville on the news at his Martha's Vineyard house. Lee doesn't play golf, but his house is on the 18th hole of a golf course, where President Barack Obama happened to be playing that day. ("You know when he's playing golf because all the Secret Service are in the trees!") It was Lee, meeting Obama on the fairway, who gave him the news.
Lee quickly resolved that the Charlottesville marchers, Trump and Duke had "written themselves into the movie." ''They took the past and they brought it back to the present," says Willmott. Lee later sought and received permission from Heyer's mother to use the video.
"It's a testament to his movies, which are always historically unpredictable. Even how he directs on set. He's very much about impulses — following your impulses, trusting them," says Driver. "He's worked with all the same people since 'Do the Right Thing' so there's a shorthand. That's what I like about his films: They're filmed with an energy where you never know what's going to happen."
To a remarkable degree, that energy has remained at a boiling point for Lee's entire career. Lee has been arguably at his best, at his most passionate when outraged, when fueled to depict and deconstruct racial injustice, whether on the streets of Bed-Stuy ("Do the Right Thing"), New Orleans ("When the Levees Broke: A Requiem in Four Acts") or Chicago ("Chi-Raq"). But those films, like "BlacKkKlansman," are as much laced with comedy and sorrow and love as they are with fury.
"It may seem like I'm in a constant rage of anger. People define me. Now they're going to add 'BlacKkKlansman' to 'Do the Right Thing' and 'Malcolm X,'" says Lee. "But I'm going into my fourth decade as a filmmaker. If you look at the whole body of work, not all the films are about anger. If you look at my semi-autobiographical film 'Crooklyn' and other films. They put the moniker on me over the years: 'Angry black man.' 'Angry black filmmaker.' They put that on me a million years."
Since its prize-winning premiere at the Cannes Film Festival, "BlacKkKlansman," has been hailed as an apotheosis encapsulating everything singular about Lee as a filmmaker. It has his trademark dolly shots and his long-held obsessions. It weaves in a commentary on the Hollywood imagery of racism, with cameos of both the Confederate dead of "Gone with the Wind" and the Klansmen of "The Birth of a Nation." Since his film student days at New York University, where Lee made a short about a black filmmaker hired to remake D.W. Griffith's 1915 film, he says, "It's haunted me."
But his current outlook is forward. Lee recently finished shooting the second season of Netflix's "She's Gotta Have It," an update of his 1986 debut. Everything runs through his Brooklyn-based production company, 40 Acres & a Mule. He still hopes to make the Joe Lewis epic he wrote years ago with Budd Schulberg, the legendary screenwriter of "On the Waterfront."
Soon he'll be off and running again, trailblazing his own path through today's cinema and through America. But before he goes, Lee has one request:
"You gotta put in that Usain Bolt line."