Shooting at Cincinnati nightclub kills 1, injures 15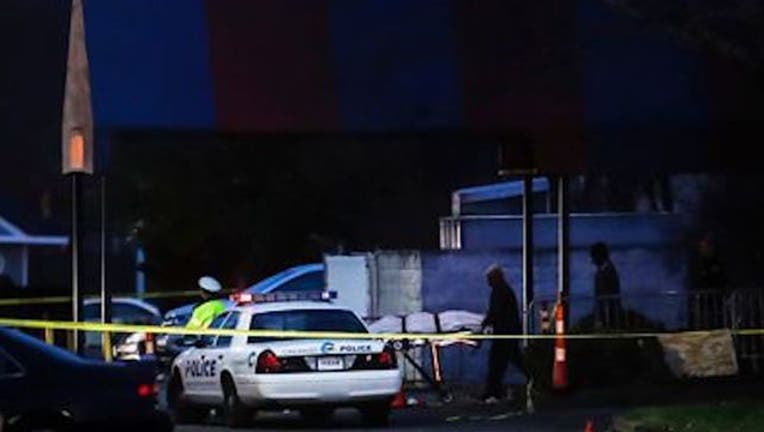 article
CINCINNATI (AP) - Gunfire erupted early Sunday inside a crowded Cincinnati nightclub after a dispute broke out among several men, killing one man and injuring 15 other people, authorities said.
No suspect was in custody by the afternoon and police did not think the shooting at the Cameo club was terrorism-related. They said the nightclub has a history of gun violence.
Cincinnati Police Chief Eliot Isaac said one of the wounded was in "extremely critical condition." A hospital spokeswoman said two victims were listed in critical condition, but she had no other details.
Isaac identified the deceased as 27-year-old O'Bryan Spikes and said 15 others were injured, with some already treated and released from hospitals.
Police began receiving calls at 1:30 a.m. about gunshots at the club near the Ohio River east of downtown Cincinnati. Isaac said some 200 people were inside the club for music and dancing.
"What we know at this point in the investigation is that several local men got into some type of dispute inside the bar, and it escalated into shots being fired from several individuals," Isaac said. It wasn't clear how many people fired shots.
He said the club has its own internal security that uses detection wands and pat-downs, but that police believe several firearms got inside. Police said four officers were working security in the club's parking lot and some tried unsuccessfully to revive the man who died.
Cameo's Facebook profile said it caters to college students on Friday nights, when anyone over 18 is allowed in, while Saturdays are "grown and sexy night" for ages 21 and older.
The club has a history of gun violence, including a shooting inside the club on New Year's Day in 2015 and one in the parking lot that September, City Manager Harry Black said.
A phone call to the club Sunday morning by The Associated Press went unanswered.
Police Capt. Kim Williams said there was "just a lot of chaos, obviously, when shots were fired."
"Saturday night, it is a very young crowd. We have had incidents here in the past, but this is by far the worst," she said.
Referring to initial speculation about possible terrorism, Mayor John Cranley said: "What difference does that make to the victims? Innocent people were shot."
He called the shootings "unacceptable" and said authorities would work to find ways to prevent such violence.
A single body was removed by the coroner shortly after 6 a.m. The federal Bureau of Alcohol, Tobacco, Firearms and Explosives was also at the scene.
Among the injured, five were treated at the University of Cincinnati Medical Center and released, hospital spokeswoman Kelly Martin said. She said two people were in critical condition and another two were listed in stable condition. She had no details on the types of injuries or the ages of the victims. The other people injured at the club were taken or drove themselves to other hospitals.
Authorities asked anyone with information to come forward. Investigators were checking to see if surveillance cameras were working, Williams said.
The area is mostly industrial but also home to several nightclubs with a smattering of homes. A regional airport is nearby. The neighborhood is fairly desolate at night, with the exception of the nightlife scene and 24-hour gas stations. The road where the club sits was easily cordoned off by a single police cruiser and officer at either end.
First responders had problems reaching the shooting victims because the parking lots were full, Sgt. Eric Franz told the Cincinnati Enquirer.
Ohio Gov. John Kasich said on Twitter that he was "saddened to learn about last night's shooting" and that he was offering the state's assistance.