Sec. Kerry, Russian foreign minister meet in Geneva as Ukraine tensions simmer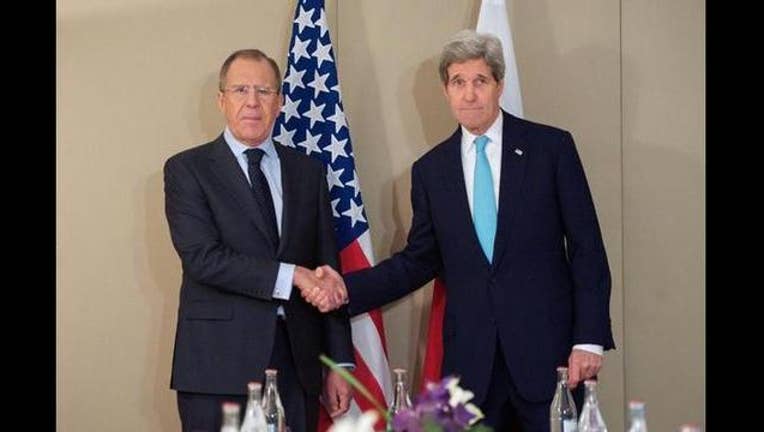 article
GENEVA (AP) - U.S. Secretary of State John Kerry met Monday with his Russian counterpart in what appeared to be less than amicable talks amid continuing tensions over Ukraine and American calls for a full probe into the murder of a prominent opposition figure in Moscow.

Neither Kerry nor Russia's Foreign Minister Sergey Lavrov smiled or spoke substantively as they shook hands before photographers at a Geneva hotel on Monday, less than a week after Kerry told Congress that Russian officials have lied to his face about Moscow's role in Ukraine.

That comment drew a rebuke from the Russian foreign ministry. U.S. officials have pointed out that Kerry did not specifically accuse Lavrov of lying to him. They say he was referring to public statements and media reports, although Lavrov is the only Russian official Kerry is known to have met face-to-face in recent months. The pair last met in February on the sidelines of an international security conference in Munich shortly before a new Ukraine ceasefire agreement was agreed upon.

Both Ukraine and the Russian-backed rebels have accused each other of violating the truce and the meeting comes as the U.S. and its European allies contemplate additional sanctions on Russia for its actions in Ukraine. In his congressional testimony last week, Kerry said that fresh U.S. sanctions had already been prepared and suggested they could be implemented soon.

However, U.S. officials have said since that they will wait to see if the ceasefire and follow-on commitments to end the violence in Ukraine's east are complied with before putting the sanctions in place.

"I underscored this morning that if that does not happen ... then there would be inevitably further consequences that would place added strains on Russia's troubled economy," Kerry told reporters he had conveyed to Lavrov.

As the two men met, the Geneva-based U.N. human rights office said that more than 6,000 people have died in eastern Ukraine since the start of the conflict almost a year ago. It said the fighting has led to a "merciless devastation of civilian lives and infrastructure."

Hundreds of civilians and military personnel have been killed in recent weeks alone after an upswing in fighting particularly near Donetsk airport and in the Debaltseve area, the body said in a report covering the period from December to February. The strategic railroad town of Debaltseve was captured from Ukrainian government forces last month by pro-Russian separatists.

While Russia denies its troops are fighting in Ukraine, the U.N. cited "credible reports (that) indicate a continuing flow of heavy weaponry and foreign fighters" from Russia.

Kerry and Lavrov each addressed the U.N. Human Rights Council later Monday and a senior U.S. official said they had met again briefly there to continue their earlier discussion.

The Kerry-Lavrov meeting also followed Friday's murder near the Kremlin of Russian opposition leader Boris Nemtsov. Kerry and other U.S. and western officials have called on Russia to conduct a prompt, thorough, transparent and credible investigation into the slaying. Russian President Vladimir Putin has said he will take personal charge of the probe. U.S. officials traveling with Kerry would not say what they thought of Putin's move and said they would withhold comment until the investigation is complete.