Santa visits Georgia baby born 17 weeks early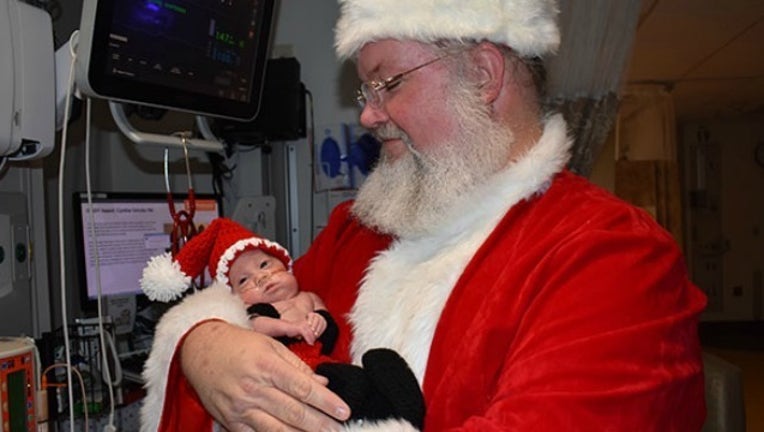 article
ATHENS, Ga. - Santa made a stop in Atlanta a few days ahead of Christmas Eve to spend some time with a tiny patient recovering in the neonatal intensive care unit at Piedmont Athens Regional Medical Center. 
Baby Hudson was originally due on December 24 but Christmas came early when he decided to surprise his family 17 weeks ahead of schedule.
"One day, I began to notice I was having some pain," said Angel James, Hudson's mother. "I ignored it for the day, but when it continued into the next day, I went to the emergency room." 
James was only 23 weeks pregnant when she went into labor and doctors had to perform an emergency C-section. Hudson weighed just one pound, six ounces when he was born. 
According to Piedmont Athens Regional, James' premature labor was caused by a condition known as an incompetent cervix or cervical insufficiency. This happens when weak cervical tissue causes a woman's cervix to dilate too early. 
Hudson, who needed numerous intensive treatments, was immediately taken to the hospital's level III NICU. 
"He was so premature that he didn't even look like a baby yet," James told the hospital. "It was devastating to see him like that. Having Hudson so early was scary and stressful, but the nurses and doctors in the NICU have helped me through every step. We have celebrated a couple holidays here in the hospital, but Christmas is a special time because it shows how far he's come."
Baby Hudson now weighs four pounds, eight ounces and continues to progress. 
"Soon, he will celebrate what would have been his birthday on Christmas Eve with a special visit from the big man in red himself: Santa Claus," the hospital said on its website.