Salmonella risk prompts Hungry Man recall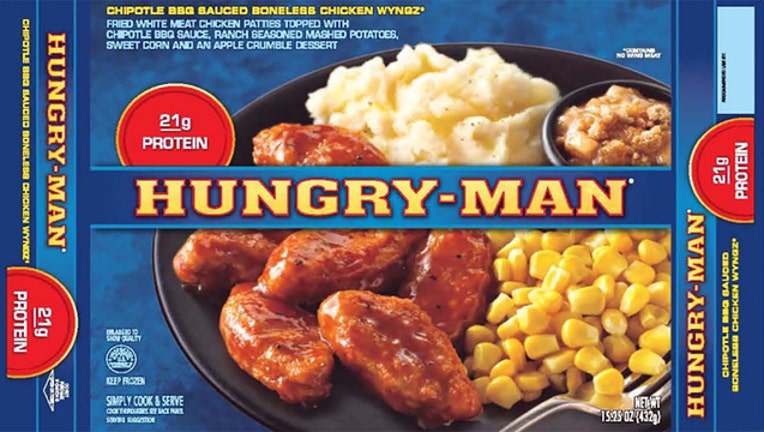 article
The U.S. Department of Agriculture's Food Safety and Inspection Service (FSIS) is issuing a public health alert due to concerns that products may be contaminated with salmonella from whey powder that has been recalled by the producer of the ingredient. 
The whey powder is an FDA-regulated product that is being voluntarily recalled by the producer, Associated Milk Producers, Inc. (AMPI). Additional FSIS-regulated products containing the recalled whey powder may be added to this public health alert as more information becomes available.
The product currently subject to the public health alert is produced by Pinnacle Foods, Inc., a Fayetteville, Ark. establishment and is listed below: 
15.25-oz. individual frozen microwavable dinners with "HUNGRY MAN CHIPOTLE BBQ SAUCED BONELESS CHICKEN WYNGZ" printed on the label and bearing a best buy date of 9/6/19.  The product bears establishment number "EST. P138" or "P-138" on the side of the carton. These products were shipped to retail locations in Massachusetts, Pennsylvania, and Virginia. 
The problem was discovered on July 17, 2018, when Pinnacle Foods, Inc. was notified by their supplier that the recalled whey powder ingredient was used in the ranch dressing seasoning supplied to the firm. The ranch dressing seasoning was incorporated into mashed potatoes and packaged as a component with a boneless chicken dinner.
Consumers with questions can contact Pinnacle Foods Consumer Care at 1-888-257-1057.  Media with questions about the public health alert can contact Janice Monahan, Director of Communications for Pinnacle Foods, Inc., at 973-541-8620 or mediainquiries@pinnaclefoods.com.
There have been no confirmed reports of adverse reactions due to consumption of these products. Anyone concerned about an illness should contact a health care provider.