Ryan: Trump made 'textbook definition of a racist comment'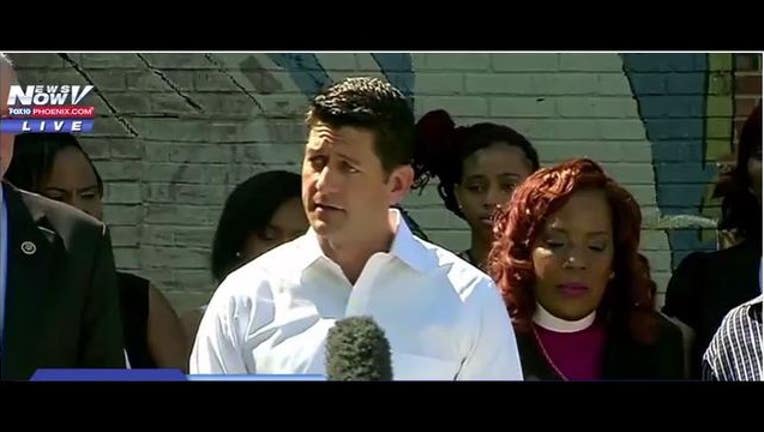 article
WASHINGTON (AP) — House Speaker Paul Ryan said Tuesday that Donald Trump made the "textbook definition of a racist comment" in saying an American-born judge isn't qualified to preside over a case because of his Mexican heritage.
"I regret those comments he made. Claiming a person can't do their job because of their race is sort of like the textbook definition of a racist comment," Ryan said at a news conference. "I think that should be absolutely disavowed. It's absolutely unacceptable."
Ryan's comments highlight acute GOP divisions around Trump's candidacy, as Republicans squirm over what may be the billionaire's most incendiary stance to date — the claim that U.S. District Judge Gonzalo Curiel can't preside over his case fairly because the judge is of Mexican heritage and Trump wants to build a wall between the U.S. and Mexico.
The flap comes as Republicans are struggling to close ranks behind Trump, and complicates those efforts. Ryan endorsed Trump only last week after a lengthy delay, just before the judge controversy lit up, and affirmed that stance anew Tuesday even while he was unstinting in his criticism of Trump's comments on the judge. "But do I believe Hillary Clinton is the answer? No, I do not," he said.
"I believe that we have more common ground on the policy issues of the day, and we have more likelihood of getting our policies enacted with him than we do with her," Ryan said. "But I do absolutely disavow those comments, I think they're wrong, I think they're wrongheaded, and the thinking behind it is something I don't even personally relate to."
Democrats immediately ridiculed Ryan for denouncing Trump's comments as racist yet continuing to back his candidacy.
"Paul Ryan continues to endorse someone who spews racist rhetoric — the 'textbook definition' of a coward more concerned with partisan politics than the good of the country," said Meredith Kelly, spokeswoman for the Democratic Congressional Campaign Committee.
Curiel, who is presiding over a case alleging that Trump University fleeced students, was born in Indiana to parents who came from Mexico in the 1940s. Trump has been questioned repeatedly about his stance that the judge's ethnicity makes him unqualified to preside over his case, but has refused to retract his comments, and may not be any more likely to do so in response to Ryan's complaints.
Ryan made his comments at an event in a low-income neighborhood of Washington, D.C., where he was unveiling new proposals to fight poverty, the first piece in a six-plank governing agenda by the House GOP.
But instead of discussing his poverty proposals he was forced to deal with numerous questions on Trump, illustrating anew Trump's tendency to create troublesome distractions for members of his own party. The flap over the judge is proving particularly problematic and leading Republicans have taken turns denouncing Trump's comments.
While some others have sought to avoid calling Trump or his comments out-and-out racist, Ryan leveled the charge matter-of-factly while still attempting to steer the conversation back to his agenda.
"I'm going to defend our ideas, I'm going to defend our majority, and I think our likelihood of getting these ideas into law are far more likely if we are unified as a party," Ryan said. "And so I see it as my job as speaker of the House to help keep our party unified. I think if we go into the fall as a divided party, we are going to lose, and that's why I am going to be focused on these ideas and these solutions and not attempt to defend the indefensible."