Rosenberg mayor orders mandatory evacuation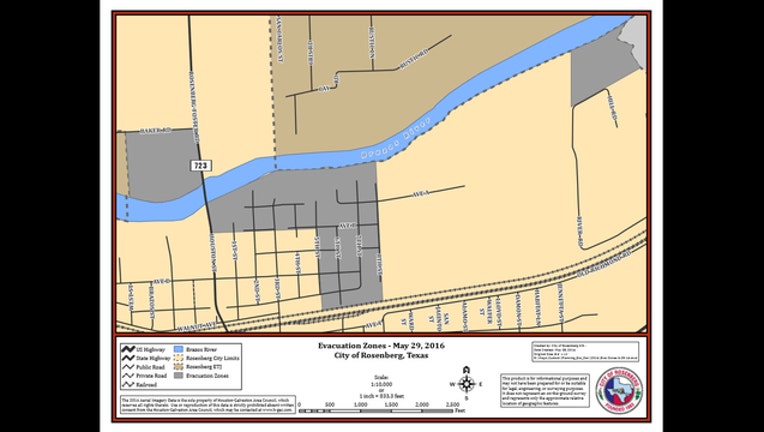 article
ROSENBERG, Texas (FOX 26) - Mayor Cynthia McConathy has signed orders declaring a State of Disaster for the City of Rosenberg. The order prompts mandatory evacuations beginning at 2 p.m. on Sunday. Rainfall levels have caused the Brazos River to reach record elevations with projections for it to crest at more than 53 feet high on Tuesday morning.
Flood levels are especially affecting northern Rosenberg. The mandatory evacuations are in effect for the following sections of the city:
All properties north of River Road, adjacent to the river
All properties south of Baker Road, adjacent to the river
All properties on the north side of the railroad tracks from 5th Street to 8th Street (west to east) and from the Brazos River to Avenue B (north to south)
The City of Rosenberg is advising residents affected by the mandatory evacuation order to seek shelter at the First Baptist Church on 502 South 5th Street in Richmond.
Transportation to the shelter will be available from 2:00 p.m. until 4:00 p.m. at A.W. Jackson Elementary School. Please keep bags to a minimum (one or two) and bring any required medications as well as car seats for children.
All residents are urged to be cautious as the river continues to rise and flood waters become an imminent concern. Roads on the north side of Rosenberg will be closed as water levels increase, as well as the WoW Cemetery, Tony Becerra, Brazos, and River Bend Parks.
"From Sunday afternoon on, we'll be in new territory," Judge Hebert said during a Fort Bend County Emergency Operations Center conference call on Saturday morning. "We just don't know how high it will go."