Roof of Bellagio mall burns near iconic fountains in Vegas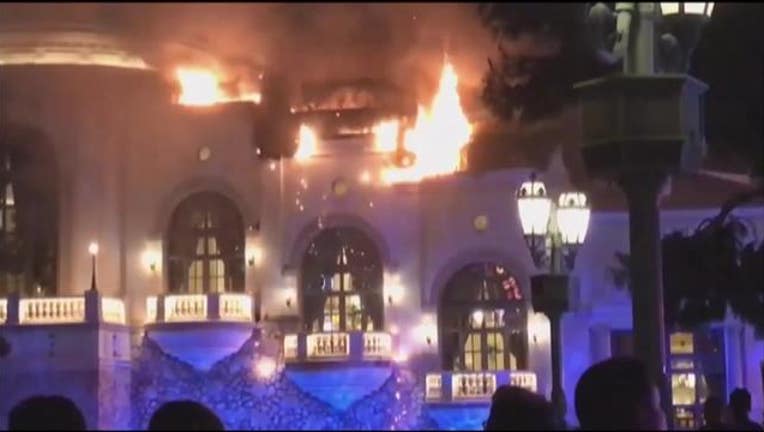 article
LAS VEGAS (AP) - Flames ripped across the roof of the Bellagio's shops and restaurants on the Las Vegas Strip as tourists watched the nighttime fire reflected in the iconic fountain show at the hotel-casino, authorities said Friday.
No injuries were reported in the late Thursday blaze, which didn't reach inside the Via Bellagio mall, Assistant Clark County Fire Chief Larry Haydu said. Damage was limited to the roof.
Gusty winds fanned the flames, forcing employees to evacuate tony stores such as Tiffany & Co. and Chanel. Pedestrian bridges to Bally's and Caesars Palace closed, and busy Las Vegas Boulevard was shut down.
Operations were not interrupted in the posh Bellagio casino or the 36-story hotel with nearly 4,000 rooms, said Yvette Monet, spokeswoman for owner MGM Resorts International.
She said the shops were either closed or closing at the time of the fire.
Investigators were trying to determine what sparked the fire, which burned what appeared to be foam building material, Haydu said. No construction was going on in the area, hotel officials said.
Haydu said the 77 firefighters who fought the blaze had trouble reaching the roof of the shopping complex, which also features celebrity restaurants such as Todd English's Olives and Lago by Julian Serrano.
It wasn't immediately clear if the building material was the same type that burned in a January 2008 fire atop the Monte Carlo hotel-casino a few blocks away, Haydu said.
That fire was sparked by welders on the roof and forced the evacuation about 6,000 guests and employees and caused more than $100 million in damage and lost business at the 3,000-room resort.
Investigators found an improper type of resin had been used in two decorative elements near the top of the 32-story hotel, which caused the fire to spread faster than expected along the roof and facade. Some upper-floor rooms received water and smoke damage.
___
Associated Press writer Sally Ho contributed to this report.