Resistance SF calls for Twitter to ban President Trump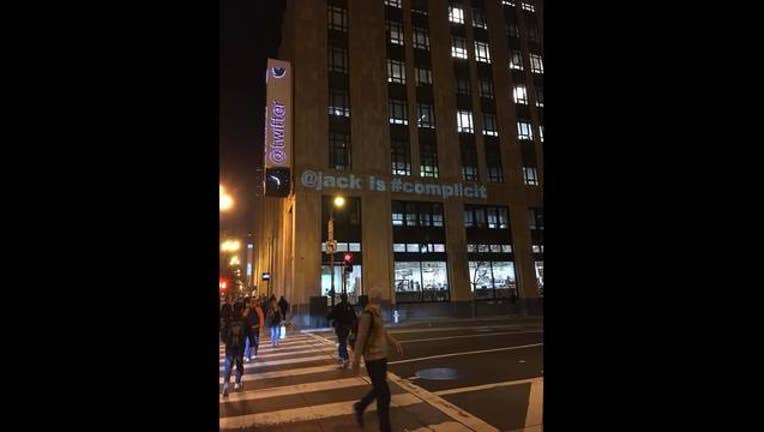 article
SAN FRANCISCO (KTVU and AP) - The group Resistance SF had a message for Twitter's founder on Tuesday night.
The group projected "@jack is #complicit" on Twitter's headquarters and also shared the image on its Facebook page.
Resistance SF says Jack Dorsey breaks the rules of his own company by allowing president Donald Trump to Tweet.
The group also called for Dorsey's resignation if he does not ban the President from using Twitter. 
This comes after President Trump Tweeted Tuesday "North Korean Leader Kim Jong Un just stated that the 'Nuclear Button is on his desk at all times.' Will someone from his depleted and food starved regime please inform him that I too have a Nuclear Button, but it is a much bigger (and) more powerful one than his, and my Button works!"
But despite ratcheting up the tension, Trump doesn't really have a nuclear button.
The process for launching a nuclear strike is secret and complex and involves the use of a nuclear "football," which is carried by a rotating group of military officers everywhere the president goes and is equipped with communication tools and a book with prepared war plans.
If the president were to order a strike, he would identify himself to military officials at the Pentagon with codes unique to him. Those codes are recorded on a card known as the "biscuit" that is carried by the president at all times. He would then transmit the launch order to the Pentagon and Strategic Command.
President Trump's Twitter account was deactivated in November for 11 minutes - but it was later learned that the deactivation was reportedly a mistake.
Reporters at TechCrunch identified the Twitter-contractor as Bahtiyar Duysak, who was born in Turkey and raised in Germany. He was working for the San Francisco company for the last part of his stay in the United States under a work-study visa.
Duysak told TechCruch he worked in customer support in Twitter's Trust and Safety division. This team receives alerts when users report bad behavior, including offensive or illegal tweets, harassment, someone impersonating another person and so on. The team then gets to decide what further steps, if any, should be taken.
On his last day at Twitter, Nov. 2, someone reported Trump's account to him, and he decided in a "throwaway gesture," TechCrunch described, to "put the wheels in motion to deactivate it. Then he left work.
It was hours later that he realized what he had done, through the news.
He told "TechCrunch" it was a "mistake," he never thought the account would actually get activated.  He told TechCrunch he is sure he didn't break any laws or hack anyone's account.
"I was tired," he said in the interview, which was conducted in Germany. "It was a mistake....it was a number of coincidences."
In a separate interview, he told CNNTech that he actually "admires" Trump's business acumen and he should not be considered a hero. "I don't deserve the Nobel Peace Prize," he told TechCrunch
Twitter would not confirm to TechCrunch Duysak's identity.