Republican lawmaker says shooting threat was self-defense in House floor dispute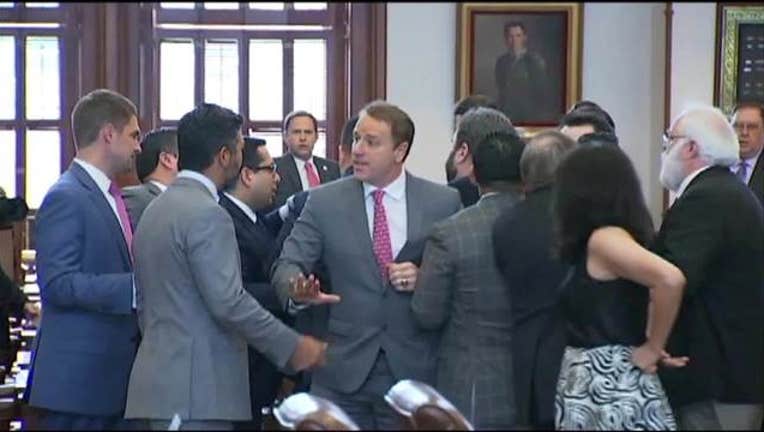 article
AUSTIN, Texas (AP) - The Latest on a protest at the Texas state Capitol over a new law that compels local police to enforce federal immigration law (all times local):
2:35 p.m.
A Republican Texas state lawmaker accused of threatening gun violence during an immigration protest on the House floor says his life was threatened, not the other way around.
Rep. Matt Rinaldi of Irving said in a statement on Facebook that he "called ICE on several illegal immigrants" Monday based on signs protesters were waving reading, "I am illegal and here to stay."
Rinaldi says his Democratic colleagues were encouraging protesters "to disobey law enforcement" and that when he mentioned calling federal authorities he was "physically assaulted" by one Democrat.
Rinaldi says another Democrat claimed he would "get" him on his way to his car.
Rinaldi says he responded saying he "would shoot him" in self-defense. He added that he is currently under state trooper protection.
___
1:30 p.m.
A group of Democratic lawmakers is accusing a Republican colleague of threatening to "put a bullet in the head" of someone on the Texas House floor, as a raucous immigration protest unfolded in a public gallery.
At a news conference Monday, the Democrats said Republican state Rep. Matt Rinaldi made the threat toward Rep. Poncho Nevarez, a Democrat from the border town of Eagle Pass.
Rinaldi left the House floor and wasn't available for comment.
But several Democratic lawmakers said he'd bragged about "calling ICE" on protesters who interrupted a House floor session to protest Texas' new anti-sanctuary cities law.
That led to a near-scuffle with Democratic Rep. Cesar Blanco. But the Democratic lawmakers said the comments about gun play came during a second altercation moments later.
___
11:45 a.m.
Hundreds of protesters removed from the public gallery of the Texas House after their demonstration opposing a tough new immigration law are continuing to chant and cheer in the rotunda of the state Capitol.
Even after police peacefully cleared the public gallery Monday, though, tensions simmered. One Democratic lawmaker said he was enraged when a Republican joked that he was going to call federal authorities to deport the protests.
Protesters, meanwhile, reassembled inside the ground floor rotunda.
Leroy Pena of Dallas, a Lipan Apache Indian, held a sign reading: "Governor Abbott, show me your papers. I am a 15th generation Texan."
Opponents call Texas' anti-sanctuary cities law a "show your papers" law since it empowers police to inquire about peoples' immigration status during routine interactions such as traffic stops.
___
11:15 a.m.
State troopers have cleared the Texas House's public gallery of protesters and lawmakers are resuming work on the floor.
A raucous protest involving several hundred chanting and cheering demonstrators, some of whom blew whistles, began about 40 minutes into Monday's final floor session. House leadership asked state troopers to clear the public gallery that rings the floor above the chamber and suspended the session.
Police fanned out and led small groups of protesters out into the hallway. The process took about 20 minutes, and protesters continued to chant their opposition to Texas' new anti-"sanctuary cities" law throughout.
Once all the protesters were gone, the House gaveled back in and lawmakers went back to largely ceremonial final-day duties.
Texas' tough new measure compels local police to enforce federal immigration law.
___
11 a.m.
Hundreds of protesters wearing red "lucha" or "fight" T-shirts and chanting their opposition to Texas' tough new anti-"sanctuary cities" law have forced the Texas House to interrupt its floor session.
About 40 minutes into the proceedings on the final day of the legislative session Monday, protesters began cheering and chanting from the gallery: "Here to stay!" and "Hey, hey, ho, ho SB4 has got to go!"
Some waved banners reading "See you in court!"
The House leadership stopped the session and asked state troopers to clear the gallery. The demonstration continued for several minutes as officers led people out of the chamber peacefully in small groups.
Texas recently approved SB4, which compels local police to enforce federal immigration law. Opponents have filed lawsuits.
___
10:20 a.m.
Immigrants from Arizona and elsewhere are urging grassroots resistance against Texas' recently passed crackdown on "sanctuary cities."
The Texas law is similar to a 2010 Arizona law that lets police inquire about a person's immigration status even during routine interactions such as traffic stops.
But as the group joins with local activists, their effort is coming too late for a small portion of foreign-born Texans who have already begun evacuating the state.
While their ranks are still too small to measure, a larger exodus - as has already happened in Arizona - could seriously impact Texas. The state has more than 1 million immigrants illegally in the country.
Although the visiting activists are urging resistance, some immigrants are abandoning Texas for more liberal states, where they feel safer from deportation.