President Trump hopes to keep Pennsylvania seat away from Democrats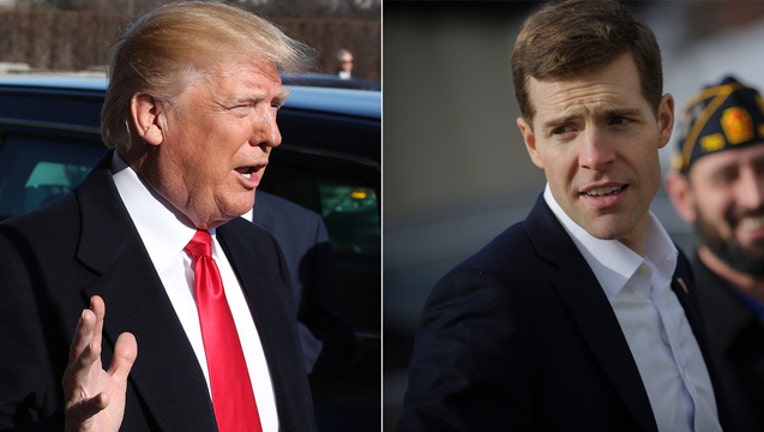 article
WASHINGTON - CORAOPOLIS, Pa. (AP) — The White House insisted it was not a political event. But that didn't stop President Donald Trump from throwing his support Thursday behind a Pennsylvania Republican in a House race that is widely viewed as a test of whether the party can stave off Democratic gains.
Speaking at a Pittsburgh-area factory, Trump praised state lawmaker Rick Saccone as "a real friend and a spectacular man." Earlier, Trump told reporters he planned to come back to Pennsylvania — where he won in 2016 — to campaign for Saccone.
"I'll be back for Rick. And we're going to fill up a stadium and we're going to do something really special for Rick. I look forward to it," Trump said.
The White House had insisted the event had nothing to do with politics. Trump would be talking about the tax cuts he signed into law just before Christmas, and trying to turn the conversation back to his accomplishments after weeks dominated by distractions, including questions about his mental health and comments about immigration that some considered racist.
Saccone's name would not appear in Trump's prepared remarks, officials said, although he greeted Trump at the airport and attended the speech
Hours before leaving the White House, Trump pledged "total support" for Saccone, who is trying to keep that House seat in Republican hands in the first congressional race of the year.
"We will be going to Pennsylvania today in order to give my total support to RICK SACCONE," Trump tweeted. "Rick is a great guy. We need more Republicans to continue our already successful agenda!"
White House press secretary Sarah Huckabee Sanders quickly sought to correct the record, insisting in a statement that Trump was going to Pennsylvania to talk about tax cuts, not to campaign.
A campaign event would require that taxpayers be reimbursed for some of Trump's travel expenses. Trump's re-election campaign reimbursed the Treasury $68,000 for political travel last year.
Saccone, a 59-year-old state representative, faces Conor Lamb, a 33-year-old lawyer and former Marine, in the March 13 special election to replace Republican Tim Murphy, who resigned last year after acknowledging an extramarital affair.
The election is shaping up as the next test of Democratic enthusiasm and GOP resilience in the Trump era and an early indicator of whether a midterm wave may be coming in November, as Democrats hope. The party that controls the White House traditionally loses seats in Congress in the midterm election.
While Trump easily won the district, Democrats are looking to build on their Senate victory in conservative Alabama, where Trump twice endorsed losing candidates, and a Republican lost for the first time in decades.
During the visit to H&K Equipment in Coraopolis, Pennsylvania, Trump boasted about the impact of his tax plan, which the White House says further spur economic growth.
"We are coming back bigger and better and stronger than ever before," he said, speaking to workers flanked by construction equipment.
Company officials told Trump that 2017 was the best year in H&K's 35-year history — gains which they credit to Trump.
"They just said their business has never been better," Trump relayed as he toured the factory.
Saccone framed his candidacy as an extension of the agenda that propelled Trump to office.
"It's only natural to have him come out to see his core constituency and have us celebrate his successes with him," Saccone said in an interview Wednesday.
The Congressional Leadership Fund, a political action committee aligned with House Speaker Paul Ryan, R-Wis., has opened offices in the district with paid canvassers. Political groups bankrolled by the billionaire Ricketts family, owners of the Chicago Cubs, are airing television ads on Saccone's behalf.
As for Democrats, at the national party's House campaign headquarters, spokeswoman Meredith Kelly praised Lamb's "long record of public service to our country." But the party hasn't included the district on its official list of GOP-held targets, which now has 91 seats. Democrats must capture 24 GOP-held seats to regain a majority in the House.
In 2017, Democrats managed surprisingly competitive races in four special congressional races in heavily Republican districts, but lost all four.
Lamb must "run a perfect campaign," said Mike Mikus, a Democratic campaign strategist who has run congressional races in the Pittsburgh area. "But it can be done," Mikus added.
Registered Democrats outnumber Republicans in the district by about 70,000, a reflection of organized labor's influence. But many of those union households embraced Trump's populist, protectionist message in 2016.