'Poop-bandit' in northwest Harris County, woman says bags of human waste dumped in backyard
HOUSTON - One northwest Harris County community is dealing with a stinky situation, literally. A woman says she's had bags of human waste thrown into her backyard several times.
Leah Kitchens says her family moved to a home in a subdivision north of the Jersey Village city limits in February 2022. That's when she noticed the unusual Kroger bags, around 20 or 25, in her backyard. Initially, she assumed they were bags of dog poop being thrown over her fence by those on the walking trail. But, she soon discovered that was not the case.
"Further inspection, we felt that it was actually human poop because of the amount that was in there. I don't think even a Great Dane could eliminate that much waste," she said.
SUGGESTED: 'Unusual' 650-pound fossil whale skull found in Maryland, estimated to be 12 million years old
But it wasn't the last time the bags of human waste made their way into her yard. Kitchens says it happened again in March, April, and October of last year.
The last time the bags appeared in her yard she says was around Monday or Tuesday of last week.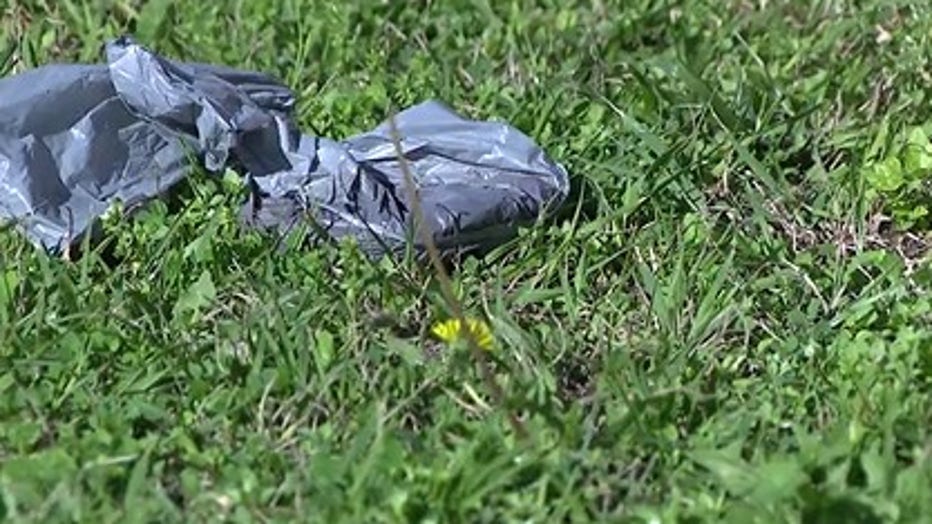 (Photo Courtesy of FOX 26 Houston)
At this point, Kitchens says she doesn't understand what this person is doing or why. "It's like 20 bags, we notice at a time. I don't know if he just doesn't have plumbing somewhere or if he's homeless. I just don't know what it is."
Kitchens tells us she is in the process of putting up cameras and signs around her home in hopes of deterring whoever is committing the acts.
Her kids are often playing in the backyard along with her dog, so their health has become a major concern for her.
She recalls one time her dog even came up to her with a bag of waste in its mouth. "I'm just scared my kids are gonna get sick. I'm worried about my dog."
Kitchens has come to find out her yard wasn't the only one that's been a victim to the human waste bags. After making a post on Nextdoor, other neighbors admitted they found bags in their years as well, and they're just as equally disgusted and frustrated.
MORE: Pilot survives fiery plane crash in north Harris County after losing power
"We agreed that we were gonna start patrolling together to find the 'poop-bandit', is what we've been calling him around the neighborhood," she said.
The community has started a neighborhood in an attempt to find the bandit leaving the bags around their homes. They plan to talk to the community sheriff about it in hopes of something being done and will be reaching out to the police if the act happens again.
Overall, the mother is scared and uneasy about the situation.
"I want this guy to stop doing his business and throwing it over my fence. I'd like for him to be punished for what he's doing. If he's mentally unstable that's one thing, if he's doing this just because then I think he needs to suffer some consequences," Kitchens said.
When FOX 26 went out to speak with Kitchens, there was a bag she says looked similar to the ones thrown over her fence sitting just on the outside of her backyard.