Police chief to watchdog group: 'Go fly a kite'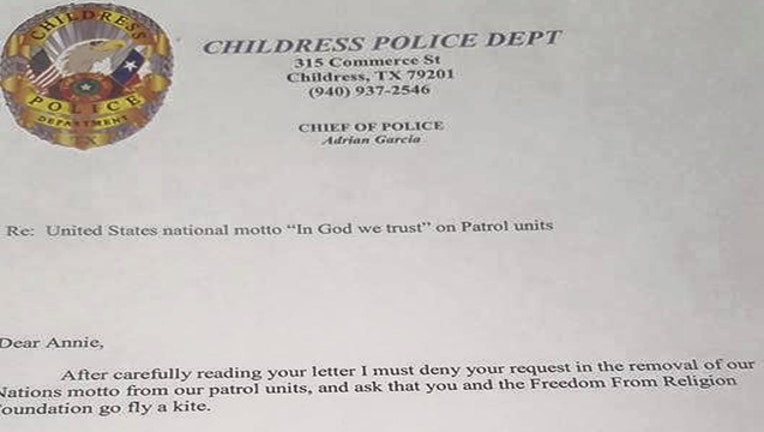 article
A Texas police department's bold letter to a watchdog group that promotes the separation of church and state is going viral.  
On Monday, Childress Police Chief Adrian Garcia posted a photo to the Childress Police Department's Facebook page of the letter he sent to the Freedom From Religion Foundation.
The Facebook post says, "Ok so here it is I received a letter from the freedom of religion foundation, demanding we remove the 'In God we trust ' off our patrol units. So I responded back with this letter."
The letter says, "After carefully reading your letter I must deny your request in the removal of our Nations motto from our patrol units, and ask that you and the Freedom From Religion Foundation go fly a kite."
The post has been liked by more than 105,000 people and has been shared almost 90,000 times.
Earlier this month, Garcia said he decided to add the decals in response to recent attacks on law enforcement personnel that have received broad attention, including the Aug. 28 killing of a sheriff's deputy who was shot 15 times at a Houston-area gas station.
The decision by police to unveil the phrase in Childress, an agricultural community of some 6,100 people at the southern edge of the Texas Panhandle, followed a similar move by dozens of other police agencies elsewhere in the country.
"I think with all the assaults happening on officers across the country ... it's time we get back to where we once were," Garcia told the Red River Sun newspaper.
The Law Enforcement Officers Memorial Fund notes that eight officers have been shot and killed in the U.S. in the last month — and four died in the span of 10 days — but shooting deaths of officers from January through September of this year were actually down 13 percent compared to the same period last year.
The Associated Press contributed to this report.