Pence says Trump will be 'best friend' to armed forces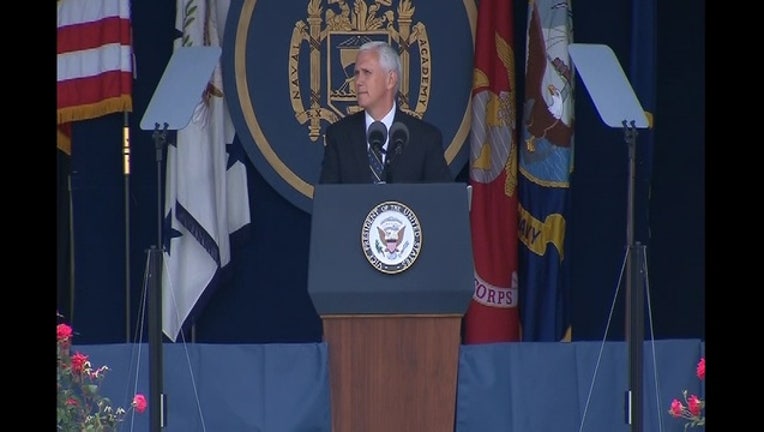 article
ANNAPOLIS, Md. (AP) - Vice President Mike Pence said Friday "the era of budget cuts of the armed forces of the United States is over," assuring incoming Navy and Marine Corps officers that President Donald Trump will be the "best friend the armed forces of the United States will ever have."
Pence, speaking to cheering graduates at the U.S. Naval Academy, said their commander in chief is committed to providing the resources they need "to lead and fight and win any contest, any struggle, anywhere on behalf of freedom."
"Let me be clear, the era of budget cuts of the armed forces of the United States is over," Pence declared.
The vice president found an appreciative audience in the 1,053 academy graduates, who repeatedly applauded his comments about strengthening the military.
"No matter where you're called to serve, no matter what the mission, this commander in chief will always have your back," Pence said.
Pence, whose son Michael is an officer in the Marines, spoke to the graduates' parents in the bleachers of Navy-Marine Corps Stadium, as well as the graduates.
"And to the families who are gathered here today and all these rising officers, I say President Donald Trump and I will not rest, we will not relent until we rebuild our military, restore the arsenal of democracy and ensure that our soldiers, sailors, airmen, marines and coast guard have all the resources that you need to accomplish your mission and come home safe," Pence said.
Pence highlighted Trump's budget proposal, which he said provided for thousands of new service members and eight new battle force ships headed for the sea.
"Earlier this month, President Trump signed a $21 billion increase in funding for our armed forces, the largest investment in military readiness in nearly a decade," Pence said. "And earlier this week, in his very first budget, your commander in chief laid out one of the largest increases in defense spending since the days of President Ronald Reagan."
Pence said while the nation must always work for peace, the best way to avoid conflict is to make adversaries aware the United States is prepared to win any struggle.
"President Trump is working with the Congress to make the strongest fighting force in history stronger still, and with renewed American strength your commander in chief is once again reaffirming America's role as leader of the free world," Pence said.
Of the 1,053 graduates, 811 are men and 242 are women. The academy said 769 will be commissioned as Navy ensigns, and 259 will be commissioned as 2nd lieutenants in the Marines.
"And as you prepare to assume your duties, I want to say to new officers and to your families, President Donald Trump is the best friend the armed forces of the United States will ever have," Pence said.