Paul Manafort Trial: Defense for former Trump campaign chairman rests without calling witnesses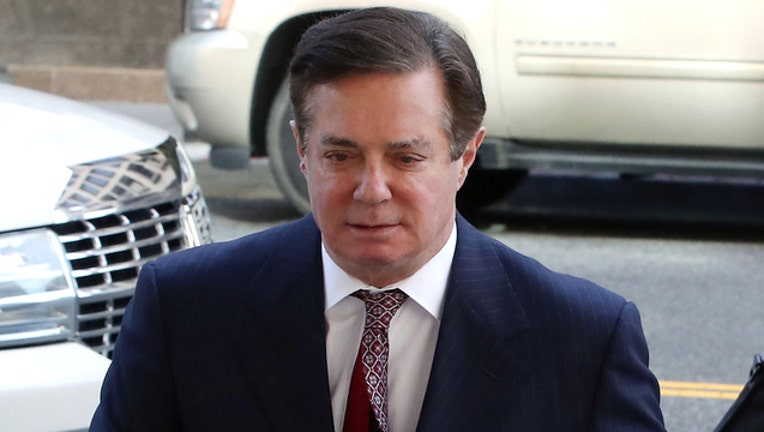 article
ALEXANDRIA, Va. - Paul Manafort's defense rested its case Tuesday without calling any witnesses in the former Trump campaign chairman's tax evasion and bank fraud trial. Manafort himself chose not to testify.
The decision not to call witnesses clears the way for the jury to hear closing arguments in the first trial to emerge from special counsel Robert Mueller's investigation. The arguments are scheduled for Wednesday morning.
Manafort is accused of hiding millions of dollars in income he received advising Ukrainian politicians. The defense has tried to blame Manafort's financial mistakes on his former deputy, Rick Gates. Defense attorneys have called Gates a liar, philanderer and embezzler as they've sought to undermine his testimony.
Manafort's decision not to testify and not to call witnesses was announced by his attorney, Kevin Downing, before the jury on Tuesday afternoon. Asked by U.S. District Judge T.S. Ellis III whether he wished to testify in his defense, Manafort responded: "No, sir."
The decision came after a more than two-hour hearing that was closed to the public. The judge has not given any explanation for the sealed proceeding, only noting that a transcript of it would become public after Manafort's case concludes.
After announcing that they were resting their case, Downing told reporters outside the courthouse that "he did so because he and his legal team believe that the government has not met its burden of proof."
Also Tuesday, Ellis rejected a defense motion that the case should be dismissed on those same grounds.
Manafort's lawyers asked the judge to toss out all the charges against him, but they focused in particular on four bank-fraud charges.
The government says Manafort hid at least $16 million in income from the IRS between 2010 and 2014 by disguising the money he earned advising politicians in Ukraine as loans and hiding it in foreign banks. Then, after his money in Ukraine dried up, they allege he defrauded banks by lying about his income on loan applications and concealing other financial information, such as mortgages.
Manafort's lawyers argued there is no way that one of the banks, Federal Savings Bank, could have been defrauded because its chairman, Stephen Calk, knew full well that Manafort's finances were in disarray but approved the loan to Manafort anyway. Witnesses testified at trial that Calk pushed the loans through because he wanted a post in the Trump administration.
Ellis, in making his ruling, said the defense made a "significant" argument, but ultimately ruled the question "is an issue for the jury."
Prosecutors rested their case on Monday, closing two weeks of a testimony in which they introduced a trove of documentary evidence as they sought to prove Manafort's guilt on 18 separate criminal counts.
The prosecution depicted Manafort as using the millions of dollars hidden in offshore accounts to fund a luxurious lifestyle, and later obtaining millions more in bank loans under false pretenses.
The case against Manafort does not relate to any allegations of Russian election interference or possible coordination with the Trump campaign, the main thrust of Mueller's investigation.
Still, the proceedings have drawn President Donald Trump's attention — and tweets — as he works to undermine the standing of the Mueller investigation in the public square.
Trump has distanced himself from Manafort, who led the campaign from May to August 2016, with Gates at his side. Gates struck a plea deal with prosecutors and has provided much of the drama of the trial so far.
Gates testified that he helped Manafort commit crimes in an effort to lower his tax bill and fund his lavish lifestyle. During testimony, Gates was also forced to admit embezzling hundreds of thousands of dollars from Manafort and conducting an extramarital affair.