Parkland suspect: Voice said to burn, kill, destroy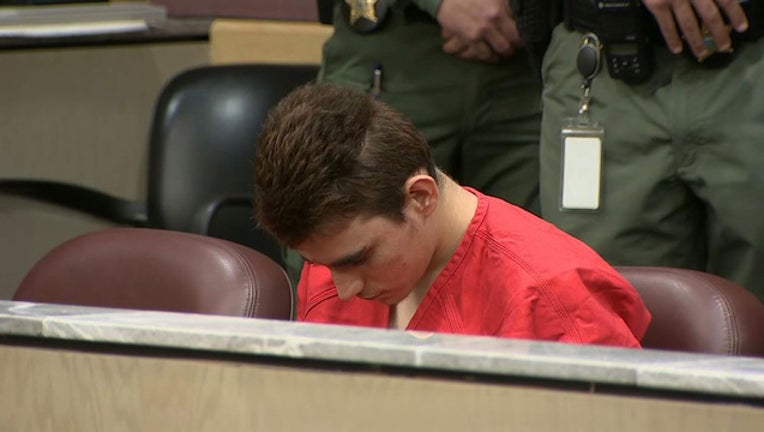 article
FORT LAUDERDALE, Fla. (AP) - Florida school shooting suspect Nikolas Cruz told a detective that a demon in his head - "the evil side" - told him to burn, kill and destroy, and that he thought about going to a park to kill people about a week before 17 people were gunned down at the school, according to a transcript of his interrogation released Monday.
During the more than 11 hours of questioning by Broward sheriff's Detective John Curcio, Cruz usually answered in short sentences or nodded yes or no, speaking so softly that the detective repeatedly told him to speak up. Twice when Curcio left the room, Cruz, 19, cursed at himself and said that he wanted to die, he deserved to die.
"You're nothin'," Cruz told himself, followed by cursing.
The interrogation will be pored over by prosecutors and defense attorneys if Cruz attempts an insanity defense or for mitigating factors if he is convicted and faces the death penalty. Cruz's attorneys have said he would plead guilty in exchange for a sentence of life without parole.
Prosecutors released the 216-page, heavily redacted transcript of Cruz's post-shooting statement after a judge ruled last month that nonconfession portions should be made public. The interrogation began about four hours after the Feb. 14 shooting at Marjory Stoneman Douglas High School in Parkland and about 2½ hours after Cruz was captured as he walked down a nearby street.
The Associated Press and other media had sought the statement's release under Florida's broad public records laws. Cruz's attorneys had wanted it suppressed, saying its disclosure could hinder his right to a fair trial.
LINK: Read the full document, via WSVN-TV (warning: graphic content)
Cruz's statements about the shooting are blacked out, but the transcript is otherwise wide-ranging, dealing with the death of Cruz's parents, his penchant for killing animals, his former girlfriend, his brother, guns, suicide attempts and, especially, the voice. He told Curcio the voice appeared after his father died about 15 years ago but got worse after his mother died of pneumonia in November.
Cruz described the voice as a male, about his age, and said the only person he ever told about it was his brother.
Curcio asked what the voice told him.
"Burn. Kill. Destroy," Cruz responded.
"Burn, kill, destroy what?" the detective asked.
"Anything," Cruz responded.
He told Curcio that he had to fight the voice from taking over, that it was always bad. Curcio questioned that, asking how it could always be bad if Cruz had held down a job at a discount store for two years.
"The voice is in here," he said, apparently pointing to his head. "And then it's me. It's just regular me trying to be a good person." Curcio said everyone has a good and bad side.
"Do they really?" Cruz said.
He said the voice tried to get him to shoot people at a park a week earlier. Or maybe it was three. Cruz couldn't remember exactly, but he didn't want to do it. Curcio asked why he didn't.
"I ... I don't know," he said.
Cruz told Curcio he wanted to join the Army to be a Ranger but he failed the written exam "because I was stupid."
Cruz said he bought the AR-15 allegedly used in the shooting a year before because it was "cool looking" and "to feel safe." He said he bought other guns but fired them only twice, both times into the cement floor of his mother's garage.
"It didn't bounce all over hell and creation?" Curcio asked. No, Cruz replied, saying the bullets embedded in the concrete.
Cruz said he tried to kill himself with an over-the-counter pain reliever after his mom died and years earlier had tried to drink himself to death because he was lonely.
"You don't have a lot of friends?" Curcio asked.
"No." Cruz said he goes fishing with the demon.
Curcio told Cruz he doesn't believe the voice exists, but Cruz insisted it was there and said he wanted to see a psychiatrist.
At the end of the interrogation, the detective let Cruz's 18-year-old brother into the room.
"You - your - people think you're a monster now," Zachary Cruz told him.
"A monster?" Cruz responded.
"You're not acting like yourself. Like, why? Like, we've ... this is not who you are. Like, come on. Why did you do this? This is ... don't even laugh at me," Zachary Cruz said.
"I'm sorry, dude," Nikolas Cruz replied.