Oscar Pistorius' sentence increased to 13 years, 5 months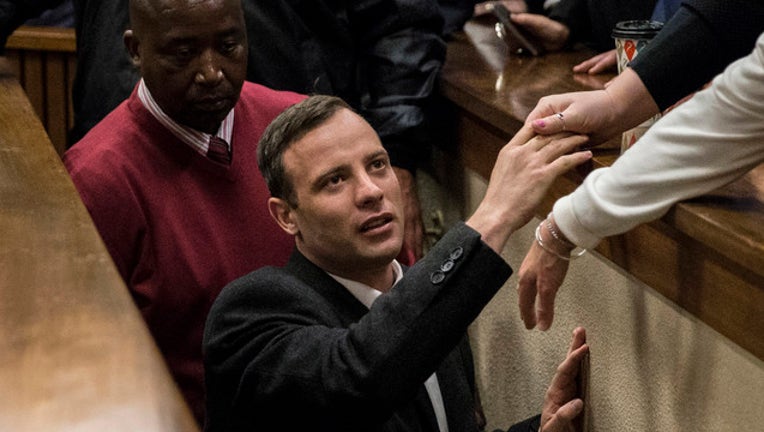 article
SOMERSET WEST, South Africa (AP) - Oscar Pistorius' prison sentence was more than doubled to 13 years and five months on Friday, a surprisingly dramatic intervention by South Africa's Supreme Court of Appeal in the Olympic athlete's fate after the murder of girlfriend Reeva Steenkamp.
In an announcement that took a matter of minutes, Supreme Court Justice Willie Seriti said a panel of judges unanimously upheld an appeal by prosecutors against Pistorius' original six-year sentence for shooting Steenkamp multiple times in his home in 2013.
Under that initial sentence, which the court called "shockingly lenient," the double-amputee runner could have been released on parole in mid-2019. Now, the earliest he'll be eligible for parole is 2023.
The ruling could finally bring an end to the near five-year legal saga surrounding Pistorius, a multiple Paralympic champion and record-breaker who was the first amputee to run at the Olympics and one of the most celebrated sportsmen in the world.
Steenkamp's parents, Barry and June, were "emotional" as they watched Seriti deliver the verdict live on television at their home, family lawyer Tania Koen said.
"They feel there has been justice for Reeva. She can now rest in peace," Koen told The Associated Press. "But at the same time, people must realize that people think this is the end of the road for them ... the fact is they still live with Reeva's loss every day."
Pistorius killed Steenkamp in the pre-dawn hours of Valentine's Day 2013 after shooting four times through a closed toilet cubicle door with his 9 mm pistol. He claimed he mistook the 29-year-old model and reality TV star for an intruder and was initially convicted of manslaughter by trial judge Thokozile Masipa. That conviction was overturned and replaced with a murder conviction by the Supreme Court in 2015. Pistorius was then sentenced to six years for murder by Masipa, a decision also now rejected by the Supreme Court.
Prosecutors called the six-year sentence much too lenient and the Supreme Court agreed, saying in a full written ruling released later that "the sentence of six years' imprisonment is shockingly lenient to a point where it has the effect of trivialising this serious offence."
The Supreme Court said that Pistorius "displays a lack of remorse, and does not appreciate the gravity of his actions."
Pistorius' brother, Carl, wrote on Twitter: "Shattered. Heartbroken. Gutted." A spokesman for the Pistorius family didn't answer calls from the AP.
Pistorius should have been sentenced to the prescribed minimum of 15 years for murder, Seriti said, as he delivered the verdict of a panel of five judges at the Supreme Court in the central city of Bloemfontein. There is no death penalty in South Africa.
The new sentence of 13 years and five months took into account the one year and seven months Pistorius served in prison and under house arrest after his manslaughter conviction.
The new sentence was backdated to start on the day he began his murder sentence, on July 6 last year.
Supreme Court judges are generally reluctant to change sentences handed down by trial courts, and it's rare for them to change one so dramatically.
"I did not expect the Supreme Court of Appeal to hand down such a lengthy sentence of imprisonment," legal analyst Ulrich Roux said on the eNCA news channel. "But, if one looks at what the law states, and given the fact that murder does carry the minimum sentence of 15 years in prison, I think the decision could be vindicated."
Pistorius must serve at least half of the 13 years and five months - nearly seven years - before he can be considered for parole. He has served a year and five months of his murder sentence.
Pistorius, who turned 31 on Wednesday, is being held at the Atteridgeville Correctional Centre on the outskirts of the South African capital, Pretoria, and did not attend any of the appeal hearings.
Friday's decision also has possible consequences for where he is held for the remainder of his sentence. Pistorius was moved from the high security Kgosi Mampuru II Prison in central Pretoria to Atteridgeville, which houses prisoners sentenced to six years or less. Pistorius might now be moved back to a higher security facility.
Pistorius' lawyers have one avenue left open to them if they want to challenge the new sentence, and that is to appeal to the Constitutional Court, the highest court in South Africa.
Pistorius failed with an appeal to the Constitutional Court last year to challenge his murder conviction.
___
Gerald Imray is on Twitter: https://twitter.com/GeraldImrayAP