On Thanksgiving, family hurt by Harvey counts its blessings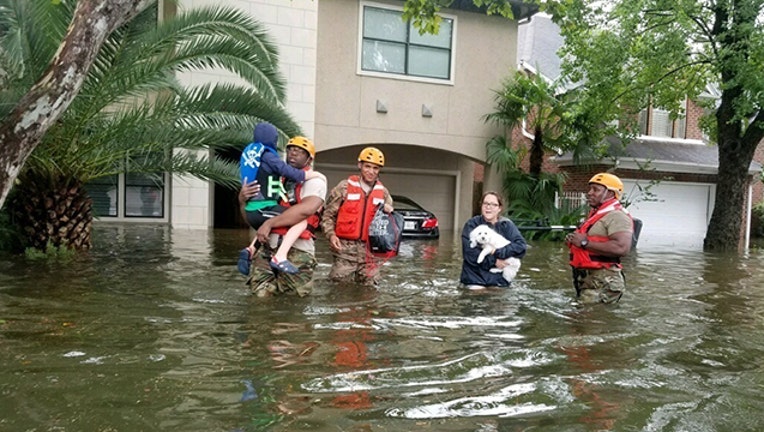 article
HOUSTON (AP) - The kitchen where George and Arva Dorsey prepare an 18-dish feast every Thanksgiving has been stripped of everything but its granite countertops, standing on their own with no appliances below. The house they renovated and expanded over three decades has been gutted down to its wooden beams.
Almost three months after Hurricane Harvey slammed into the Texas Gulf Coast, killing more than 80 people and damaging at least 200,000 homes, the Dorseys and other families are celebrating Thanksgiving however they can.
"We try to keep our head up, and we know that God is above all," said Arva Dorsey, sitting next to her husband in the dining room where they would have served Thanksgiving dinner. "So many of the blessings have come through this disaster. We're just grateful."
George Dorsey said one possibility was the family - including some members from out of town - could spend Thursday with a friend. Or they might go to a local buffet-style restaurant for turkey and trimmings.
Some people are gathering at churches that have held large meals for people displaced by the storm and volunteers spending the holiday away from their families to help rebuild. Others will go to annual events like Houston's "Super Feast," where volunteers this year will hand out clothes and supplies along with turkey and stuffing.
Furniture store owner Jim McIngvale - a Houston icon known as "Mattress Mack" - is opening one of his Gallery Furniture locations for a feast that starts at 10 a.m. Thursday.
In Houston, the nation's fourth-largest city, there are plenty of signs of progress. Blocks that had piles of debris on every front lawn are being cleared. Work crews are in neighborhoods all over the city, and nonprofit groups have distributed hundreds of millions in aid.
But more than 47,000 people across Texas, including the Dorseys, are still staying in hotels with vouchers from the Federal Emergency Management Agency. Others are staying with family members or have left Southeast Texas altogether, abandoning mortgages on homes that were wrecked by floodwaters. Some people are still living in apartments infested with mold.
The Dorseys were rescued from their home the second night of the storm by a National Guard truck, with Guardsmen pulling them out of floodwaters that had reached several feet and still rising.
The Guard took them to a nearby Baptist church, where they slept for two nights on the floor until cots arrived. They spent a week at the church, where they celebrated their 35th anniversary with a dance as other evacuees toasted them holding paper cups filled with punch.
Dozens of volunteers from churches all over the world have since arrived in their neighborhood, many of them unprompted, to help rebuild.
George Dorsey, 59, walked through his house last week as volunteers from the group Samaritan's Purse worked inside and on the roof. The staccato sound of nail guns rang out as he talked. The air inside was dry, but dusty.
Dorsey retired after 25 years working at an ExxonMobil plastics plant and now serves at a deacon at his church. With the booming voice of a preacher, Dorsey told long stories about the history of each room and his four sons, ranging in age from 31 to 16.
Arva Dorsey, 58, sat outside with a few of her neighbors, smiling and joking wryly about how much her husband could talk. She had a walker in front of her. The first time she came back to the house, she slipped on a step where water had seeped in from the drywall. She tore the cartilage in her left knee and had surgery earlier this month.
Among the things she's thankful for are the volunteers from Samaritan's Purse, not just for the labor they provided for free, but for offering to pray with her and asking about how her family was doing.
"I didn't even realize that I must have been depressed, or something was keeping me from doing what was keeping me from doing all the time," she said.
The Dorseys' typical Thanksgiving feast includes turkey, ham, macaroni and cheese, and several kinds of pies. But even if the kitchen had survived the storm, Arva Dorsey says it would have been too physically painful to spend three days preparing dinner as she normally does.
George acknowledged that part of him wished they were back in their house already. But he knew that he needed to let the foundation of the home dry out and take his time replacing what he had lost.
"The main thing is, I've learned to calm down and wait patiently for what God has for me," he said. "Just be hopeful, thankful, that you're still here. Life still goes on even when we're going through the storm."
___
Follow Nomaan Merchant on Twitter at http://www.twitter.com/nomaanmerchant