On-campus curfew at Texas Southern Univ. following shooting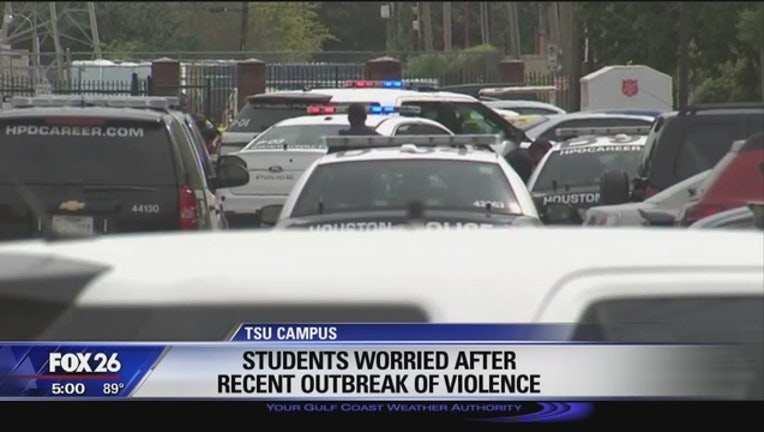 article
HOUSTON (FOX 26) - Just a few days after a deadly shooting at a campus courtyard, Texas Southern University has announced measures taken to strengthen its campus security, including instituting a curfew for on-campus residents.
Read the following statement released by the university:
Texas Southern University has taken several steps to strengthen on campus security beginning with an 11 p.m. curfew in all student housing and 24 hours, seven days a week around the clock security.
A letter to all university students and constituents went out from the University President earlier today expressing sadness for the loss. The letter also outlines other security steps the university is taking.
"We are saddened about the shooting incidents that have taken place on our campus recently," began the letter from President Rudley. "The shootings have been extremely difficult and troubling for our entire university community, and are difficult to understand.  We continue to send our sympathies to the parents and those affected by this tragedy, and ask that you keep them in your prayers."
Following are actions taken by the University to date:
ACTIONS BY THE UNIVERSITY
In the wake of these incidents, our campus police and security department is increasing its presence and will continue to work closely with law enforcement agencies across the city of Houston. I appreciate the individuals and community as a whole for its support. We realize that it will require a total effort from everyone to keep our students safe and we are thankful for those who have already stepped up to help in various ways.
The University has:
             Instituted an 11 p.m. curfew in all student housing and dorms;
             Increased security by adding three patrol shifts to student housing and dorms;
             Contracted with an outside security company to assist the campus and area for around-the-clock security;
             Instituted a mandatory sign-in and sign-out policy in campus housing;
             Authorized random room checks for security purposes;
             Reemphasized the University's Zero Tolerance policy; those breaking the rules will be expelled immediately;
             Approved Apartment Parking lot entrance revisions;
             Authorized a review and revisions of the Campus surveillance system.
In addition to these steps, the university has scheduled a Campus Carry Forum for Wednesday, October 14, 2015 at 7 p.m. in the Tiger Room of the student center. University leaders, student leaders, local law-enforcement representatives, members of U.S. Congress and community leaders will be in attendance.
ONGOING POLICE INVESTIGATION
We would like to remind everyone that this is an ongoing police investigation. Investigators are asking if anyone has any information relative to the case to please contact TSU PD at 713-313-7000.
Parents may call the Office of Student Services for periodic updates and to have any questions answered they may have. That number is 713-313-6816 or 713-313-1038.