Officials: New Mexico girl brutally raped, killed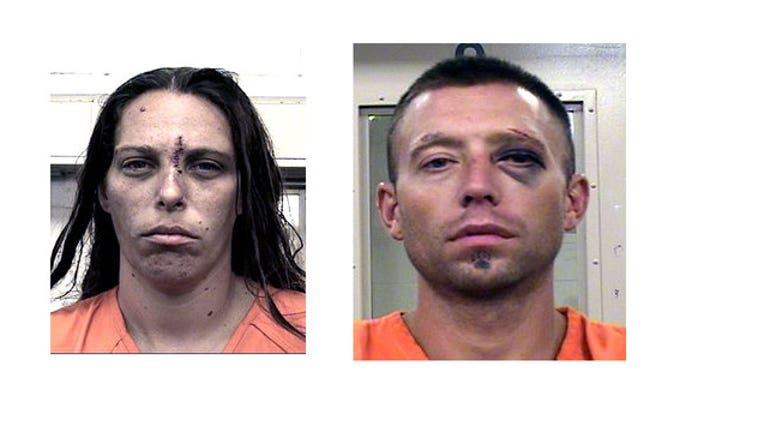 article
ALBUQUERQUE, N.M. (AP) — On the day a girl was going to celebrate her 10th birthday, she was found dead in her family's apartment by Albuquerque police officers, her dismembered remains wrapped in a burning blanket.
Details of what New Mexico Gov. Susana Martinez and law enforcement officials described as an unspeakable crime emerged Thursday in a criminal complaint made public and filed against the girl's mother, her boyfriend and his cousin. The three were taken into custody late Wednesday night.
Police say the girl was injected with methamphetamine, sexually assaulted, strangled and stabbed before being dismembered. They did not identify her because authorities were still trying Thursday to reach some relatives to notify them of the girl's death.
A caller told a police dispatcher before dawn Wednesday that there was a disturbance in the apartment, said Albuquerque Police Chief Gorden Eden. Officers who went to the apartment complex in a middle-class neighborhood found the gruesome crime scene.
"This is a horrific tragedy for our community," Eden told reporters. "I want to assure the public that we will pursue justice and we will make sure that we exhaust every resource into this investigation."
By Thursday morning, a makeshift shrine for the girl had emerged underneath a tree at the apartment complex — with relatives and friends leaving flowers, balloons, stuffed animals and lit candles.
Martinez said in a statement the abuse and killing of the girl "is unspeakable and justice should come down like a hammer."
The girl's mother, 35-year-old Michelle Martens, her 31-year-old boyfriend, Fabian Gonzales, and his 31-year-old cousin, Jessica Kelley, face charges of child abuse resulting in death, kidnapping and tampering with evidence. Gonzales and Kelly have also been charged with criminal sexual penetration of a minor.
Gonzales denied having anything to do with the girl's death as he was led out of the police station in handcuffs late Wednesday as reporters yelled questions at him. The girl's mother said nothing as she was led out and placed into the back of a police car.
Police said Kelley was hospitalized late Wednesday and will be booked after she is released. No details were disclosed about why she was hospitalized.
According to the criminal complaint, the mother told police Gonzales drugged the girl so he could calm her down and have sex with her. She said Kelley held her hand over the child's mouth and she stabbed the girl in the stomach after Gonzales had choked her.
The complaint also states that the mother told investigators that Gonzales and Kelley dismembered the girl.
One of the police officers who arrived at the apartment found the girl's body in a bathroom, rolled up in a blanket that had been set on fire. The officer put it out.
Gonzales has an arrest record stretching back to 2004, including a felony child abuse charge, driving while intoxicated and resisting arrest. It was unclear whether he was convicted of most charges, but he did plead no contest to a charge of child abandonment.
Kelley's arrest record includes battery, domestic violence and drug charges — most of them dismissed. Online court records show no criminal history in New Mexico for Martens.
Mug shots of Martens and Gonzales released by police showed them with bruises on their faces. In his statement in the criminal complaint, Gonzales said his cousin hit him and Martens with an iron.
Martens and Gonzales made their first court appearances Thursday afternoon and both were ordered held on $1 million cash-only bonds.
Christie Zamora said the girl attended her gymnastics class every Saturday and always seemed happy.
"She was incredibly social," Zamora said while visiting the makeshift memorial. "It's just so tragic."
Neighbor John Madrid frequently saw the girl around the complex and in the morning, waiting for her school bus.
"It just hurts," Madrid said, crying.
A birthday celebration was planned for the girl for Wednesday afternoon after she was supposed to return home from school, Laura Bobbs, a local minister, told the Albuquerque Journal.
Bobbs said she had planned the party and that they were going to have pedicures and manicures and eat cake.
She broke down sobbing and yelling Wednesday outside the apartment complex as detectives investigated.
"Who does this to a little child?" she asked. "Oh Jesus. Oh what evil."