Obama, Trump hit midterm campaign trail in days leading up to election day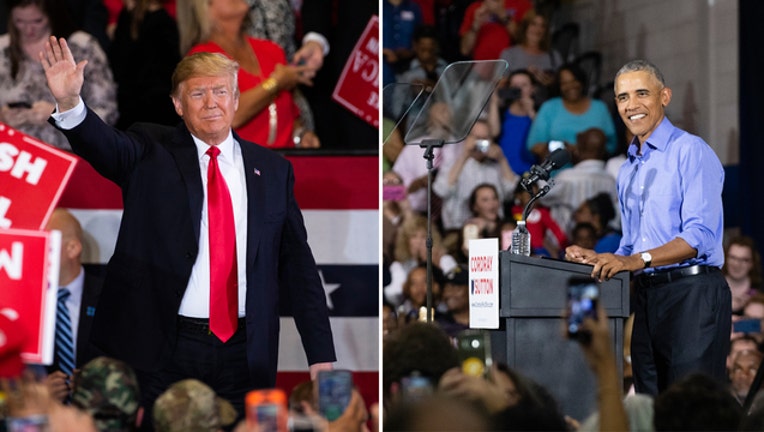 article
GARY, Ind. - No longer reluctant to speak out, former President Barack Obama is delivering a closing argument for Democrats that seeks a firm check on President Donald Trump's policies in Tuesday's midterm elections.
Obama and Trump were offering competing visions for the country in a split screen of campaigning on Sunday, seeking to galvanize voter turnout in the fight to control Congress and governors' mansions.
Obama was traveling to Gary, Indiana, on behalf of Sen. Joe Donnelly, D-Ind., who faces a stiff challenge from Republican businessman Mike Braun. Later in the day, the former president was campaigning in his hometown of Chicago for businessman J.B. Pritzker, Democrats' nominee for Illinois governor.
Obama has taken on a more public role this fall after refraining from offering a full-blown counterpoint to Trump's policies, which have sought to dismantle Obama's legacy. Without invoking his name, Obama has accused Trump of lying and "fear-mongering" and warned Democrats not to be distracted.
Trump has punched back, accusing Obama of leaving behind a trail of broken promises on trade, the economic recovery and a promise during his presidency that patients could keep their doctors under his health care law.
Trump was holding Sunday afternoon rallies in Macon, Georgia, and Chattanooga, Tennessee, in support of Republican Brian Kemp, who is running for Georgia governor, and Rep. Marsha Blackburn, who is seeking an open Senate seat in Tennessee.
A look at campaign activities on Sunday:
___
IMMIGRATION
The White House pushed back against claims that Trump's recent steps to secure the U.S. southern border were motivated by the upcoming election.
Secretary of State Mike Pompeo said in an interview with CBS' "Face the Nation" that the president's moves had nothing to do with electoral politics.
"I've been involved in scores of conversations about stopping illegal immigration from Mexico and never once has there been a discussion of the political impact in U.S. domestic politics," Pompeo said. "It has always been about securing the safety of the American people and securing our southern border."
Trump is sending up to 15,000 U.S. troops to the border to stave off a caravan of migrants slowly making its way through southern Mexico, hundreds of miles from the border. Trump has also announced plans to try to end the constitutionally protected right of birthright citizenship for all children born in the U.S.
___
SENATE STAKES
Republicans predicted that they would pad their two-seat Senate majority even though the party of a first-term president typically struggles in midterm elections. Democrats are defending 10 Senate seats in states Trump carried in 2016.
Sen. Thom Tillis, R-N.C., said Republicans would not only "hold the majority — I believe we're going to add to it." Republican National Committee Chairwoman Ronna McDaniel pointed to the recent October jobs report as evidence Republicans are delivering.
"We have a record of results and the Democrats have a record of resistance and obstruction," she said, arguing that voters would return Republicans to the majority.
Sen. Mark Warner, D-Va., said that even if voters are motivated by a strong economy, "many people realize we need a check on this president." And Sen. Chris Van Hollen, D-Md., said the party still has a "very narrow path" to a Senate majority despite facing the toughest Senate political map in 60 years.
McDaniel and Warner appeared on CBS' "Face the Nation," Tillis appeared on "Fox News Sunday," and Van Hollen appeared on "Fox News Sunday" and ABC's "This Week."
___
Associated Press writers Jill Colvin and Zeke Miller contributed to this report.