NYC Firefighters welcome boy battling stage IV cancer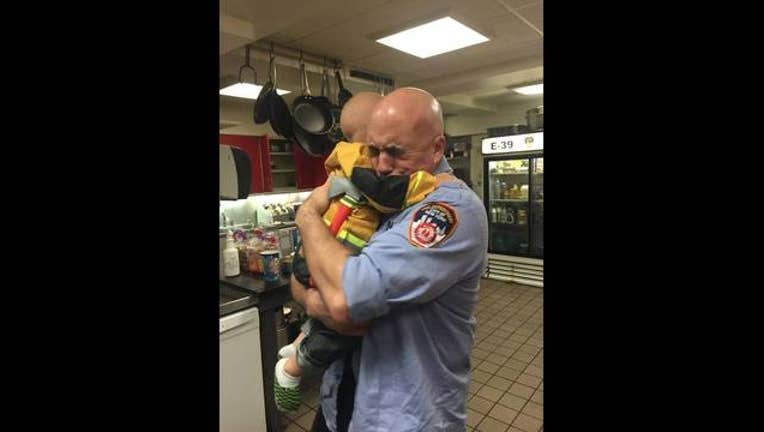 article
NEW YORK, NY – Three-year-old Trucker Dukes, of Hawaii, might be receiving cancer treatments 5,000 miles away in New York, but an entire community wants him to know they're rooting for him.
Trucker, who was diagnosed with Stage IV neuroblastoma in November, has always looked up to firefighters since his dad is one.
While he is receiving cancer treatment in New York City, he has found a friendship with the firefighters of the city including Captain Jim Grismer.
While on a call at the Ronald McDonald House, where Trucker was staying, he was impressed with Trucker's eager approach about the profession,
The spirited little boy eagerly approached and quickly made a lasting impression on the seasoned professional.
The two become friends and little Trucker will the men and women in uniform in a special way.
On May 31, Trucker will be sworn in as an honorary firefighter at the FDNY headquarters in Brooklyn!
"This honor is so special to us because Trucker-Boy really thinks he's a fireman," mother Shauna Dukes said.
"We are so blessed to have been adopted by the FDNY. Time and time again, I have watched big tough men fall in love with Trucker. It's really something special."
Friends are raising money to pay for air travel so Trucker's dad and his three siblings can attend the ceremony.
"It's been really cool, we definitely feel the love, we feel supported, my son has really touched a lot of people and I'm proud of the fight that he's fighting," Joshua Dukes told the Associated Press. "There's definitely been hard moments, awkward moments, but for the most part the community has been so supportive and it brings a smile to my face."