Nigerian-born designer Arinze Marshall creates luxury handbag brand in Houston
HOUSTON - A handbag can really be the finishing touch needed for an outfit, and Nigerian-born fashion designer Arinze Marshall is throwing his new luxury bag brand into the conversation.
Arinze Marshall recently launched his self-named luxury handbag brand around 2020 during the pandemic. It was a time of trial for everybody and according to Marshall, he used the time to throw himself into drawing and designing bags. He soon wanted to see those designs become a reality.
Marshall found himself in the fashion industry while in college. He would walk runway shows and shortly after, he found himself on a team that produced runway shows.
MORE STORIES RELATED TO LIFESTYLE
He moved to Houston in 2016 and soon fell in love with the city and became a part of it. He also felt it offered more when it came to fashion. "A lot of people think that there's not a lot of fashion that goes on in the city of Houston and I think otherwise because there are a lot of young people and young fashionable people here," he told me. "But I think when people hear about Houston, they just think about South and I think there's a lot more that we can offer."
Once he finished his drawing out his designs, the process of producing his bags really started. He had to start sourcing materials, contacting manufacturers, and getting samples made. He also ensures that his manufacturers source their leather ethically in order to keep his brand as sustainable as possible.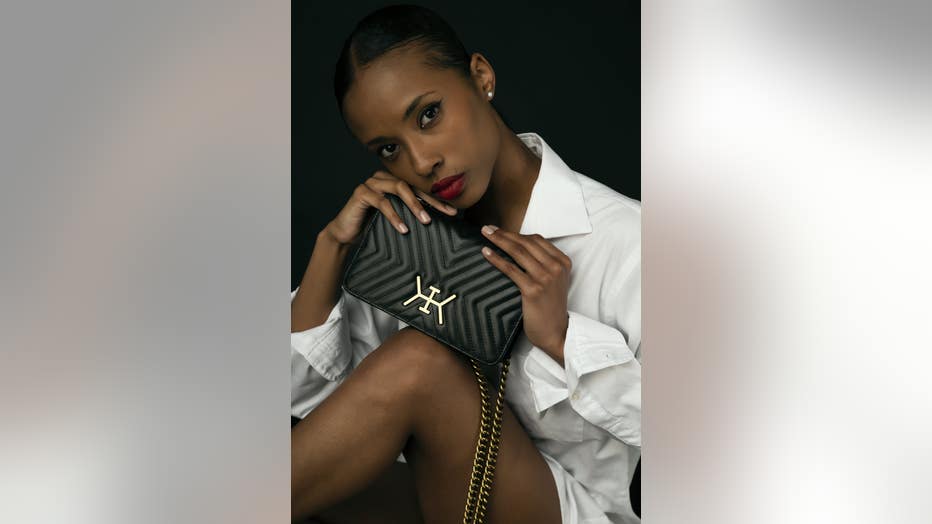 (Photo Courtesy of Arinze Marshall)
"After the design, the next best thing was definitely functionality and quality," Marshall told me. He found manufacturers with every aspect of what he wanted for his designs, and it all started to come together.
"So quality has always been part of the backbone for me because that's something I'm not going to compromise on. I'll never compromise on quality," he said.
He allowed me to view the bags firsthand and there was no denying the quality, as you can see and feel it. The products have a sophisticated look to them.
SUGGESTED: 2023 Oscar nominations announced: Full list
For Marshall, pulling from his Nigerian heritage was important to him. "I'm an Igbo man," he said. "As American, as the brand is, being that was where it was conceived, I still wanted, you know, an identity that would follow it. That will route it to its heritage."
The logo on Marshall's bag was inspired by the Igbo tribe's hieroglyphs for Eze, pronounced 'azay'. It is an Igbo word meaning 'king', he said.
"Some people would argue that our language is one of the endangered languages in the world because not so many people are speaking it these days. So, it's something that just, you know, links you back to your ancestry," he told me.
King symbolizes royalty, and for Marshall, it's how he wants people to view themselves when they wear his designs.
"It's for everybody who sees themselves like…the fashionable, upscale, hardworking, sophisticated, you know, type of individual," he says.
For the designer, inspiration can come from within the moment, anywhere. He gives an example of the Cosmos Briefcase he's currently working on launching. It is a black leather briefcase with a purple, velvet interior.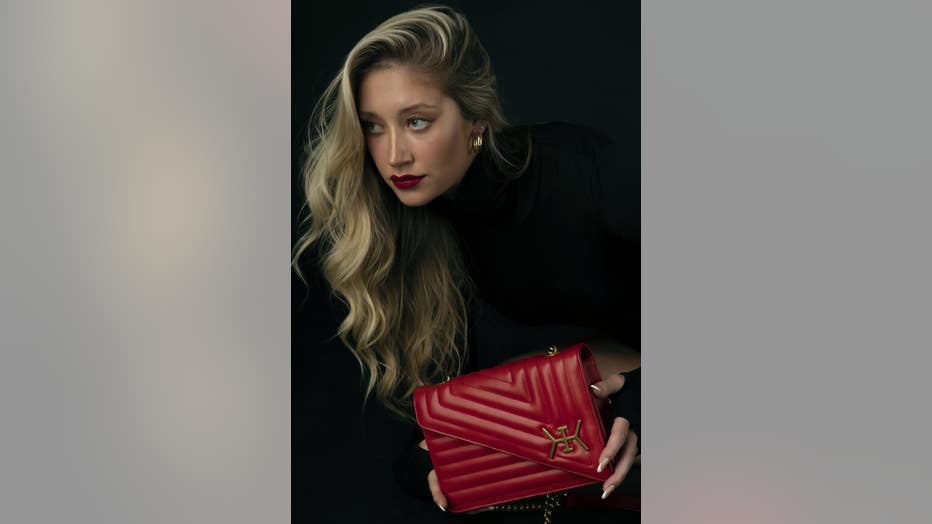 (Photo Courtesy of Arinze Marshall)
Marshall says he was in the process of learning more about astrology and the Cosmos when the idea came to him.
When the universe comes to mind, the first colors people may think of are blue and purple. Marshall says, "So, in that vast of blackness, here's the black bag and a purple interior. That bag is literally just a tribute to the planetary system."
There's no denying looking at the bag in person, the beauty of it.
RELATED: Miss Universe 2022: R'Bonney Gabriel, Miss USA, from Houston crowned winner
Handbags are the designer's main focus, but he is not limiting himself to a single product. He plans to branch out to wallets, belts, and possibly sunglasses.
"But at least in the nearest future part of the reasons why you know we love the leather, the craftsmanship. I think leather shows a lot of craft, and I think the designs are beautiful," Marshall said.
The Arinze Marshall brand is not large now, but the brand has a clear path to where it wants to go.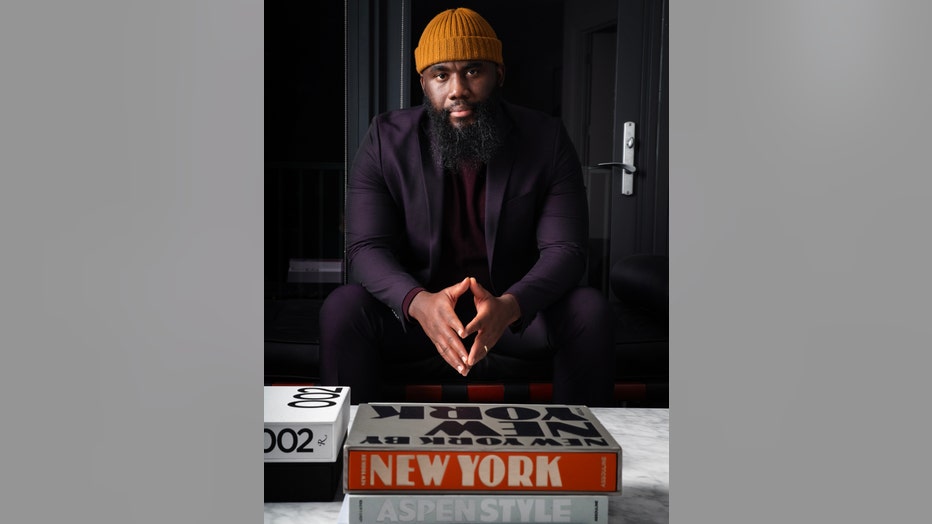 (Photo Courtesy of Arinze Marshall)
Marshall adds, "I want people to feel like they are part of the future with us, you know, to be a part of the future."
One thing Marshall wants to make known is there is a space for all Black designers and creators.
"I feel like there's not enough room for Black designers. I think in the Black community, we need to look into it in the sense that you help create spaces. Those that have a voice should help create space for Black designers and Black businesses," he says. "I'm not trying to take away from what other races and cultures have done in the industry, you know, but I always have this mentality that in the sky, there's enough space for the birds to fly."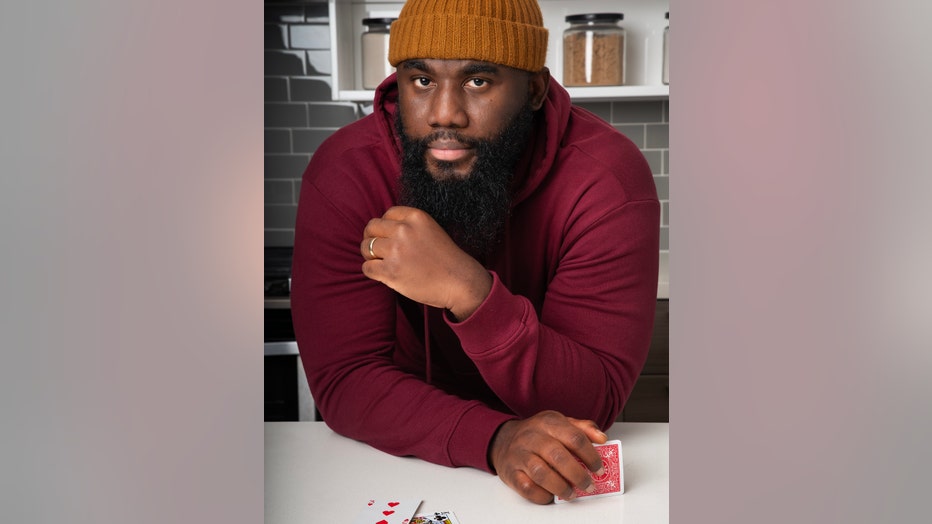 (Photo Courtesy of Arinze Marshall)
He wants people to be part of the future instead of the past. It's time for other designers and brands to come up and play as well, he said.
And he has a support system, including his wife Shannon who he met when he moved to Houston, to help him as he steps into the playing field. "My family has been really, really supportive. Every one of them, down to my relatives. Yeah, yeah. My relatives. My siblings. And friends, the few, you know, my little few friends. They know who they are," he said with a laugh.
Marshall is not short of talent when it comes to his designs. The fresh designer is full of creations and ideas to lend his own craftsmanship to the fashion industry in a new way.
You can look more into Marshall's brand by visiting his website.