Newborn twins share final hug before CDH surgery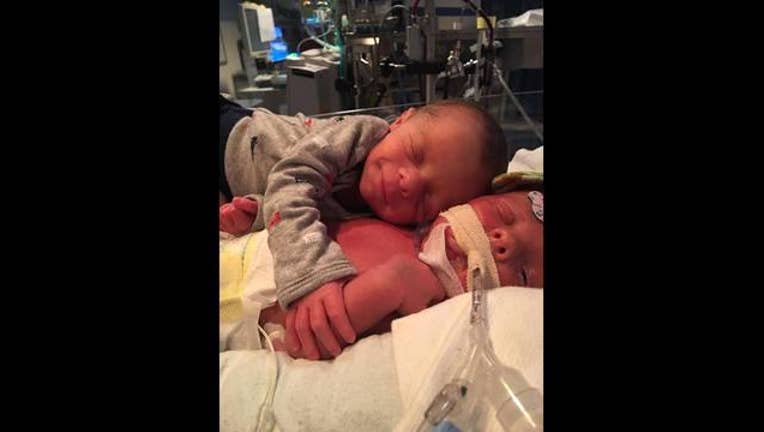 article
GAINESVILLE (FOX 13) - A South Florida family hopes the death of one of their twin baby boys will help bring awareness to a rare birth defect called Congenital Diaphragmatic Hernia.
Twin boys Mason and Hawk were born August 18 by emergency c-section. The boys made their arrival into the world early and were taken to the NICU at Shands Hospital at the University of Florida. 
The boys' family knew little Hawk was going to need extra care as soon as he arrived. He was placed in an ECMO machine and then went onto dialysis to help his failing kidneys. 
In addition to troubles with his kidneys, Hawk was diagnosed with a rare condition called Congenital Diaphragmatic Hernia, or CDH.
READ: Rare birth defect CDH being treated at JH All Children's Hospital
CDH, in simpler terms, is a hole in the diaphragm. The hole makes room for other organs to move into the chest, preventing the lungs from developing normally. 
CDH affects in less than less than 1,600 newborns a year, but the statistic is no comfort to Hawk's parents, Tommy Buchmeyer and Brandy Guettler. 
Hawk spent several days on a ventilator before undergoing surgery to repair the CDH. 
A day after Hawk's surgery, Tommy and Brandy posted a touching photo on the family's Facebook page. 
The photo was taken before Hawk's surgery, and shows little Mason resting his head on Hawk's chest. Mason's had is wrapped around Hawk's arm and he has the beginnings of a smile across his face. 
But on Wednesday, September 7, the family received the news they prayed would not come. In spite of the surgery, plus love and prayers from the community, little Hawk could not overcome the mountain of hardships he suffered from his first day. 
The family posted on their Facebook page, Mason & Hawk, a statement about Hawk's passing. 
Tommy and Brandy said they hoped Hawk's story would raise awareness for the rare but devastating condition, CDH. To learn more, visit http://www.childrenshospital.org/conditions-and-treatments/conditions/congenital-diaphragmatic-hernia