New Zealand fisherman's ocean rescue of toddler 'miraculous'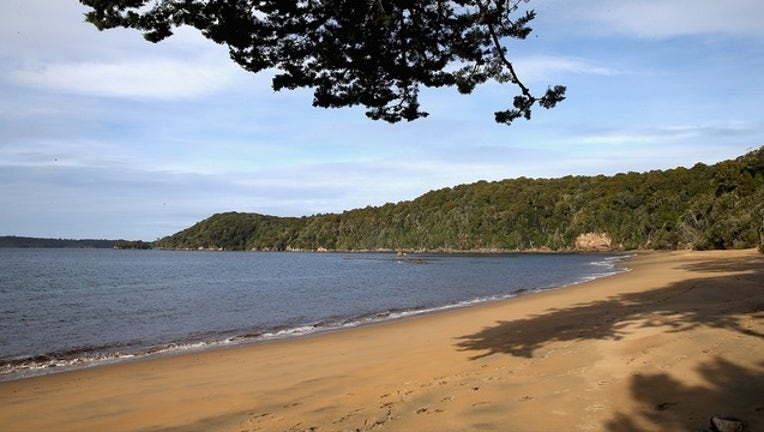 article
WELLINGTON, New Zealand (AP) - A New Zealand fisherman plucked a toddler from the ocean in a "miraculous" rescue after thinking he was watching a doll float past.
Gus Hutt was at the beach checking his fishing lines at about 7:15 a.m. on Oct. 26 when he spotted the 18-month-old boy and reached out and grabbed his arm.
"Even then, I still thought it was just a doll," he told local newspaper the Whakatane Beacon. "His face looked just like porcelain with his short hair wetted down. But then he let out a little squeak and I thought 'Oh god, this is a baby and it's alive.'"
The boy, Malachi Reeve, had escaped from his parent's tent while they were sleeping while the family was camping at Matata Beach on the North Island during the quiet spring season.
Murphy's Holiday Camp co-owner Rebecca Salter told The Associated Press that the rescue was "miraculous and fateful" after Hutt, a regular at the campground, had decided to fish at a different spot than usual and the sea had been particularly calm.
Salter said she and her husband were drinking coffee and planning out their day when the drama unfolded. They rushed to help.
"My husband came around the corner with the baby in his arms," she said. "I ran into the house and grabbed a whole heap of towels and blankets so he would be warm. He was just whimpering the whole time."
Salter said Malachi was drenched, had sand all through his hair and clothes, and was very pale. It took them a while to figure out who had lost the boy, she said, and then they woke the parents.
"They were horrified and in disbelief," Salter said. "They were woken up to find their baby wasn't there. It was surreal to everyone involved."
The boy's footprints were visible in the sand, showing where he'd wandered from the tent into the water. He'd floated about 15 meters (50 feet) before Hutt spotted him.
"If I hadn't been there or if I had just been a minute later I wouldn't have seen him," Hutt told the newspaper. "He was bloody lucky but he just wasn't meant to go. It wasn't his time."
Mom Jessica Whyte told news website Stuff that her heart just about stopped beating when she was first told Malachi had been found in the water.
"Oh god it was amazing seeing him," she told Stuff. "I gave him a big hug."
She said she wanted to warn other parents to zip their tents up tight and consider using a padlock when camping with toddlers.
Police said they attended the scene along with an ambulance, and that the boy was taken to a hospital for a check-up. Police said they didn't plan to take any further action in the case.
The local newspaper printed a story about the rescue last week but it took a while before other media picked up on it. Salter said they weren't used to such attention at their quiet beach.
Hutt said Malachi was doing just fine when his parents stopped by to thank him.
"He was wriggling, trying to get down to have a look at everything," he told the Whakatane Beacon. "He was just a lovely, cheeky little fella."