New surveillance video emerges in the murder of prominent Houston cardiologist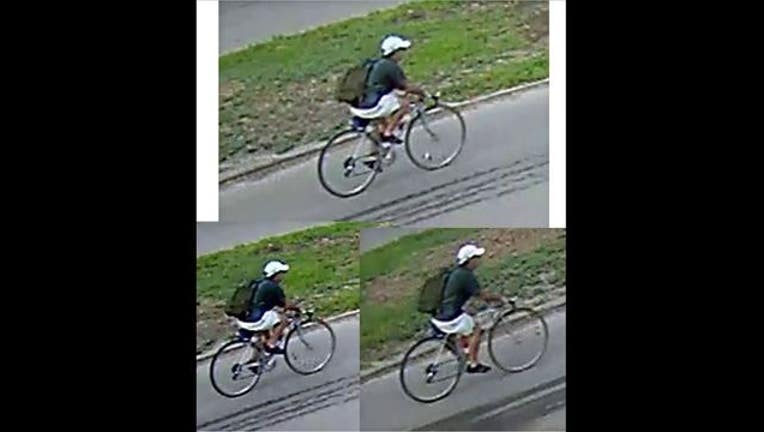 article
HOUSTON, TX - New surveillance video has been released of the suspect in an area neighborhood immediately following the doctor's shooting on Monday afternoon.
The search intensifies for a man who police say shot and killed a well-known cardiologist from the Texas Medical Center at around 8:50 a.m. on Friday, July 20, 2018. Dr. Mark Hausknecht was a cardiologist for Houston Methodist and was riding his bicycle to work on Friday when police say another man, who was also riding a bicycle, shot the doctor at least twice. 
On July 23, Houston Police Chief Art Acevedo announced there was a new revelation in the case, stating there is a "high probability" a doctor shot to death while riding his bike to work was "targeted."
Police describe the shooting suspect as a Hispanic man in his 20s or 30s who was wearing dark clothing and riding a dark bicycle.  "Have to look out for one another," said Houston Police Department Executive Assistant Chief Troy Finner. "It's a violent society."  And this time, violence spread to the heart of the Texas Medical Center where a cardiologist of almost four decades was shot to death while riding his bike to work. 
"We get a text from our security offices that immediately put us on lockdown and to be diligent," said Elysse Orchard, who works in the Texas Medical Center at the BioScience Research Collaborative for Rice University. Orchard was inside when a shelter in place was ordered.
In plain sight, near the intersection of Main Street and Holcombe Boulevard, was the crime scene where detectives searched for clues near the yellow bike and doctor's coat on the ground.
"Isn't that the rule?," asked Orchard. "That most shootings or violence is somebody that you know?" But that's what so puzzling because the victim was loved by many. He was recently recognized as a Super Doctor, which is awarded based on peer recognition or professional achievement.
Hausknecht was well known in the medical community and even helped treat former President George H.W. Bush in February 2000 for an irregular heartbeat. Upon learning of Dr. Hausknecht's death, Bush released the following statement on Twitter through his spokesman Jim McGrath:
President George H. W. Bush was deeply saddened by the tragic circumstances surrounding the untimely passing of Dr. Mark Hausknecht in Houston earlier today, and 41 sends his most sincere condolences to the Hausknechts family, his colleagues at Houston Methodist, and his friends.
"Mark was a fantastic cardiologist and a good man," President Bush said. "I will always be grateful for his exceptional, compassionate care. His family is in our prayers." "And I'm just praying for this doctor's family and for the entire medical center community," said Assistant Chief Finner.
FOX 26 News reached out to Dr. Hausknecht's family. His wife says she went through medical school with her husband. At the time of his death, Dr. Hausknecht was working for Houston Methodist and the DeBakey Heart and Vascular Center.
"They save so many lives for us every day," said Assistant Chief Finner.
But sadly, this life is now gone and the search for answers and a suspect continues.
"There's a lot of cameras, so we're hoping that we can get some footage of this and bring this violent criminal into custody, where he needs to be right away," said Assistant Chief Finner.
Houston Methodist released the following statement on the death of Dr. Hausknecht on Friday:
I'm very sorry to inform you that Dr. Mark Hausknecht, a cardiologist who was an important member of the Houston Methodist staff and the DeBakey Heart & Vascular Center, was tragically shot and killed this morning while riding his bicycle to work. Mark was a leader in the Houston Cardiovascular Associates and specialized in cardiovascular disease. He received his medical degree from Baylor College of Medicine and completed his residency and fellowship at The John Hopkins Hospital. He is a longtime Houston Methodist-affiliated physician and has been in practice for almost four decades. 
 
His patients appreciated his kind bedside manner and the extra time he took to answer their questions and fully explain their condition and treatment. We will all miss seeing Mark in the hallways and seeing patients in the cath lab and CCU, where he was known as a compassionate physician with a phenomenal bed side manner. Our employees who worked with him said patients were so proud to call him their doctor. 

Not only was he revered by his patients but Mark was highly regarded among his peers and colleagues. He was recently recognized as a Super Doctor, a listing of outstanding doctors who have attained a high degree of peer recognition or professional achievement. 
 
We wish Mark's family and friends peace and prayers as they cope with their loss.
Anyone w/ information urged to contact HPD Homicide at 713-308-3600 or @CrimeStopHOU