New poll shows Cruz with 10 point lead in Senate race over O'Rourke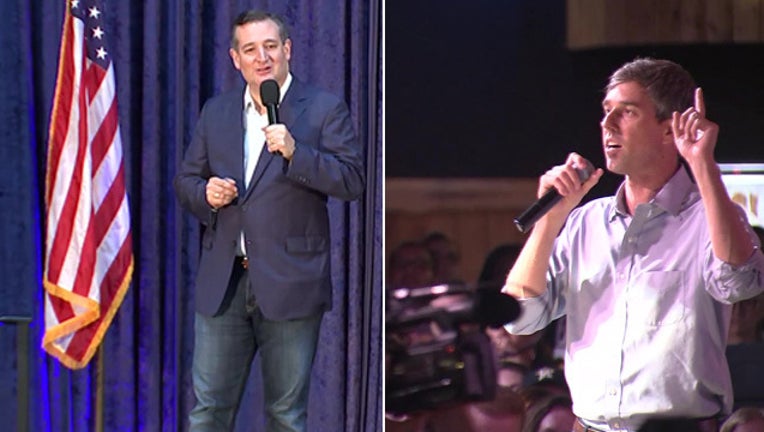 article
Quinnipiac University, CT - Republican incumbent Sen. Ted Cruz has a 54 - 45 percent likely voter lead over U.S. Rep. Beto O'Rourke, his Democratic challenger, in the Texas Senate race, according to a Quinnipiac University Poll released today. 
This is the first survey of likely voters in this race by the independent Quinnipiac University Poll, and can not be compared to earlier surveys of registered voters. Among Texas likely voters who choose a candidate, 93 percent say their mind is made up. That includes 94 percent of Cruz backers and 92 percent of O'Rourke backers. 

Women are divided as 50 percent back Cruz and 48 percent back O'Rourke. Men back Cruz 57 - 42 percent. White voters back Cruz 66 - 32 percent. O'Rourke leads 97 - 3 percent among black voters and 54 - 45 percent among Hispanic voters. 

Republicans back Cruz 94 - 6 percent, as Democrats go to O'Rourke 94 - 4 percent. Independent voters are divided with 51 percent for O'Rourke and 47 percent for Cruz. 

Texas likely voters approve 53 - 44 percent of the job Cruz is doing and give him a 52 - 43 percent favorability rating. 

O'Rourke gets a divided 43 - 42 percent favorability rating. 

"The Texas U.S. Senate race between Sen. Ted Cruz and Congressman Beto O'Rourke, and Democratic hopes for an upset win there, have boosted talk of a Senate takeover. These numbers may calm that talk," said Peter A. Brown, assistant director of the Quinnipiac University Poll. "Congressman O'Rourke may be drawing big crowds and media attention, but Texas likely voters like Sen. Cruz better." 
Immigration is the most important issue in their U.S. Senate vote, 27 percent of Texas likely voters say, as 21 percent list health care, 16 percent cite the U.S. Supreme Court and 15 percent say the economy. 

Governor's Race 

There is a wide racial gap in the Texas governor's race, as Republican incumbent Gov. Greg Abbott leads former Dallas County Sheriff Lupe Valdez 58 - 39 percent among likely voters. 

Gov. Abbott leads 69 - 28 percent among white voters as Valdez leads 83 - 16 percent among black voters. Hispanic voters are divided with 49 percent for Abbott and 45 percent for Valdez. 

Texas likely voters approve 62 - 34 percent of the job Abbott is doing and give him a 60 - 33 percent favorability rating. Valdez gets a split 28 - 28 percent favorability rating, and 42 percent of voters don't know enough to form an opinion of her. 

"Gov. Greg Abbott is highly regarded by Texas voters and appears on the way to a landslide reelection. His lead over Sheriff Lupe Valdez is just under 20 points among likely voters and the governor gets good grades on his job performance," Brown said. 

President Trump's Approval 

Texas likely voters are split 49 - 49 percent on President Donald Trump's job approval. 

Republicans approve 86 - 12 percent. Disapproval is 93 - 6 percent among Democrats and 58 - 40 percent among independent voters. 

Texas voters approve 49 - 36 percent of the job U.S. Sen. John Cornyn is doing. 

From September 11 - 17, Quinnipiac University surveyed 807 Texas likely voters with a margin of error of +/- 4.1 percentage points, including the design effect. Live interviewers call landlines and cell phones. 

The Quinnipiac University Poll, directed by Douglas Schwartz, Ph.D., conducts nationwide public opinion surveys, and statewide polls in Pennsylvania, New York, New Jersey, Connecticut, Florida, Ohio, Virginia, Iowa, Colorado and Texas as a public service and for research. 
Details and sepcific questions asked in the poll can be found here : Quinnipiac University Poll