NBA suspends Ingram, Rondo, Paul in Lakers-Rockets dustup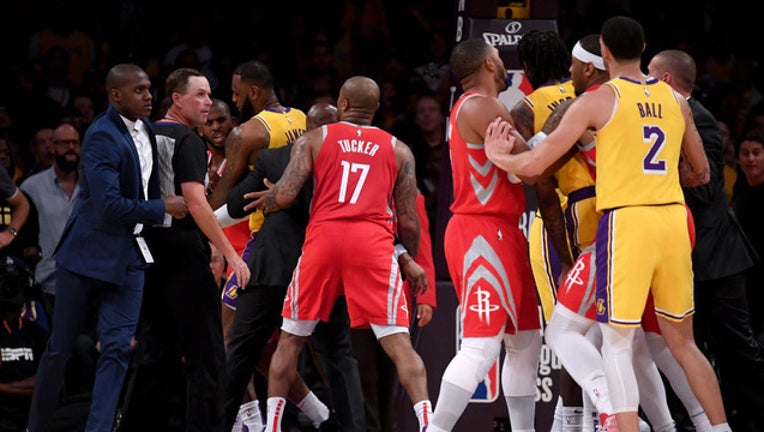 article
LOS ANGELES (AP) - Lakers teammates Brandon Ingram and Rajon Rondo and Chris Paul of the Rockets were suspended without pay Sunday for an on-court fight.
Ingram was suspended four games, Rondo will sit out three games and Paul two games. The NBA handed down the punishments a day after the incident in the fourth quarter at Staples Center.
The incident is costliest to Paul, who will be fined a total of $491,782. Paul is president of the NBA Players' Association. He began serving the suspension Sunday night when the Clippers played the Rockets.
Rondo will be fined a total of $186,207, while Ingram's total is $158,816.
Ingram and Rondo will start their suspensions Monday night when the Lakers host the San Antonio Spurs.
The league said Ingram was suspended for aggressively escalating the altercation and throwing a punch in the direction of Paul, confronting referee Jason Phillips in a hostile manner, and instigating the overall incident by shoving Rockets guard James Harden.
Rondo has been suspended for instigating a physical altercation with Paul, and spitting and throwing multiple punches at the Rockets star. Paul was suspended for poking at and making contact Rondo's face and throwing multiple punches at him.
The Rockets led 109-108 with 4:13 remaining when Ingram fouled Harden and then shoved him and confronted Phillips after getting a technical foul.
Ingram, Paul and Rondo were all ejected. Houston won 124-115, spoiling the Lakers' home debut for LeBron James.
Ingram's suspension is the most for an on-court incident since Metta World Peace leveled James Harden in a game at Staples Center in April 2012.
Paul and Rondo have been adversaries before, going back to 2009 when Paul played for New Orleans and Rondo was with Boston. They got tangled up in the second quarter of a game then, and tensions were high when the game was over, with players like Paul Pierce needing to get between the two before everyone left the court.
___
AP Basketball Writer Tim Reynolds in Miami contributed to this report.
___
More AP NBA: www.apnews.com/tag/NBA and www.twitter.com/AP_Sports